LED strip lights serve to illuminate a continuous stretch of space in a quick and easy manner. They are usually available in reels to facilitate use. The light strip itself has a self-adhesive surface on one side and LEDs placed at standard intervals on the other and is usually cut to the required length based on the dimensions of the space that needs lighting.
This simple, versatile, and effective LED strip light solution is quite handy irrespective of the intended purpose. LED strips, in fact, are used as decorative, ambient, accent, or task lights in work or commercial environments or in residential spaces. Strip lights prove equally efficient both indoors and outdoors.
When connected to a motion sensor, the motion-activated strip light can be far more convenient to use. The motion sensor strip light placed under stairs, in your bedroom or bathroom, will turn on automatically when you walk nearby without the need for you to switch the light on and off. Motion sensor strip lights also help to save energy without leaving the strip lights all night long.
To help you to save money on your bills, while having an efficient and powerful lighting source in every room and even outside, anywhere you want it, look to motion sensor LED strip lights. With these, you can unleash your color creativity, allowing you to create the perfect atmosphere.
What Is a Motion Sensor Strip Light
A LED strip light is a flexible circuit board populated by LEDs and other components that usually comes with an adhesive backing, allowing you to stick them anywhere with ease to provide illumination and decorative lighting.
A motion sensor strip light is a kit that consists of a motion sensor controller and a regular LED strip light. The strip light now becomes motion-activated, controlled directly by a PIR motion sensor instead of traditional switches.

The motion sensor strip light kit becomes more practical than manually switch-controlled stip lights, adding more automation besides the decorative lighting. Motion sensor strip lights are widely used as night lights and installed on stairs, bedside, and bathrooms. With its flexible sizes and shapes that can easily be cut to any length, as long or short as you need for your application, the motion sensor strip lights are more useful where a regular plug-in cabinet light or light bar cannot properly fit.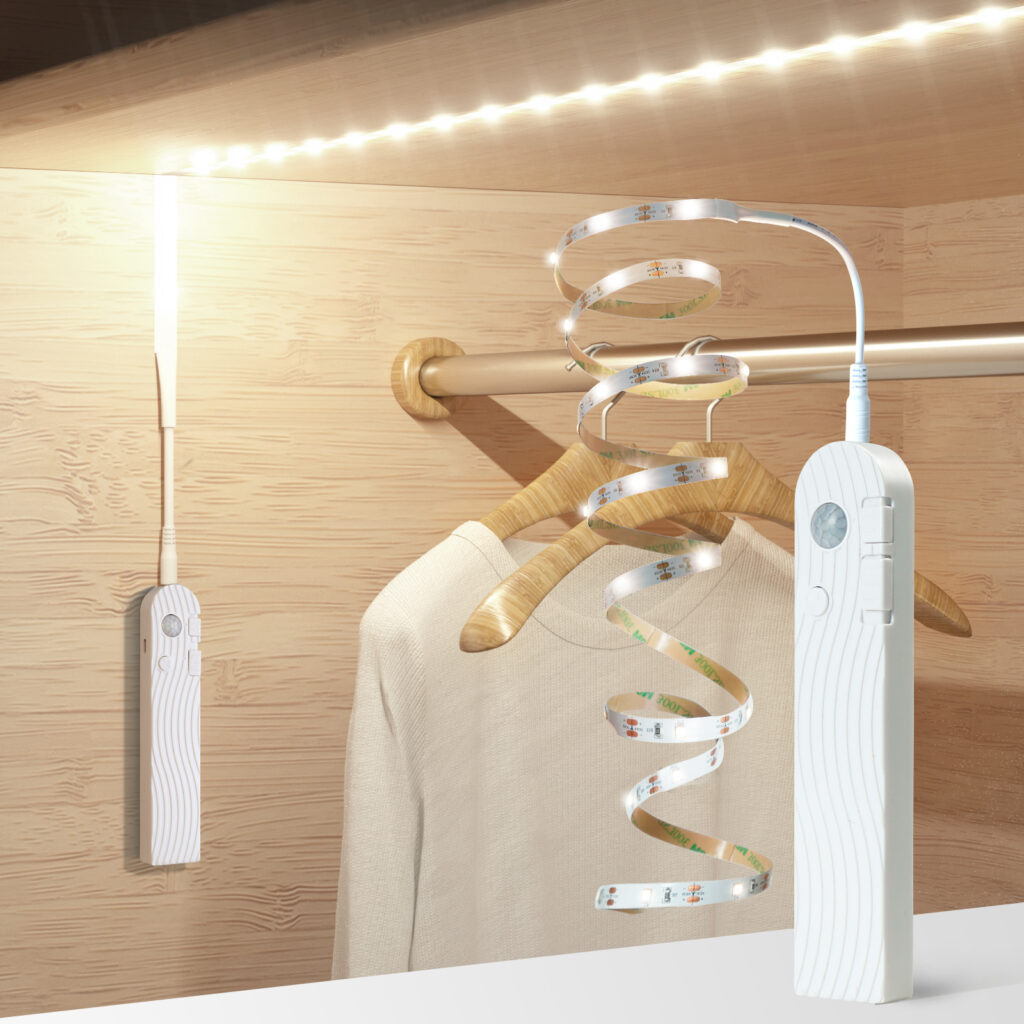 Cool White/Warm White
1M / 2M Available
Rechargeable and 3-level dimmable
3 motion detection and daylight sensing mode
LED strip lights use up to 90% less energy than a standard halogen bulb and can also last for up to 30 years, giving you the ultimate lighting for a long time to come. With LED strip lights, you can also transform your space with a vibrant lighting system. LED strip lights are quick and easy to apply to a range of surfaces and can also be cut to smaller sizes or joined to additional lengths of LED strip lights, creating the most versatile form of lighting. Whether you want lighting in or under your cupboard and cabinets, door frames, shelf lightings, or edge lighting, LED strip lights can give you an endless creative list while providing a waterproof lighting solution suitable for every room.
How to Use Motion Sensor Led Strip Lights
The motion sensor strip light is even easier to use than a standard strip light because it's fully automatic so you don't even need to switch the light on&off. After you have correctly installed the strip light and connected to the motion sensor controller, it's all set.
The motion sensor is mostly a PIR motion sensor that detects the infrared emitted by your warm body. When you walk near the motion sensor, it will turn on the strip light, and after you leave, the strip light is turned off.
To offer users more controls of the lighting, many useful features are available along with the motion sensor for maximum flexibility.
Dimmable: 3 levels of brightness adjustable(30% 50% 100%). Adjust the brightness of the motion sensor LED strip lights by pressing the button. You can simply create the brightness and ambiance you need for decor and indoor lighting.
ON/OFF/AUTO Mode: AUTO mode works as motion sensor strip lights, switch on when detecting your motion, then automatic shutdown after 30 seconds of inactivity. ON and OFF modes allow you to switch the rechargeable strip light to Manual ON or OFF.
"Sun" & "Moon" Mode: Adjust to "Sun" (Only Motion Sensor Mode) mean motion sensor both works in day and night; Adjust to "Moon" (Motion and Light Sensor Mode) mean motion sensor only works in dawn or darkness situation.
Remote Control: Some motion sensor switches are also available with a remote control that allow users to change the light pattern or colors.
Color Options
LED Strip Lights provide bright light that is intense and evenly distributed. They light up straight away, and you don't have to wait for any flickering before the light comes on properly.
Typically, LED strip lights are available in various colors, with white light being the most popular color option for indoor lighting applications. Among the white colors, cool white and warm white are commonly available for choose.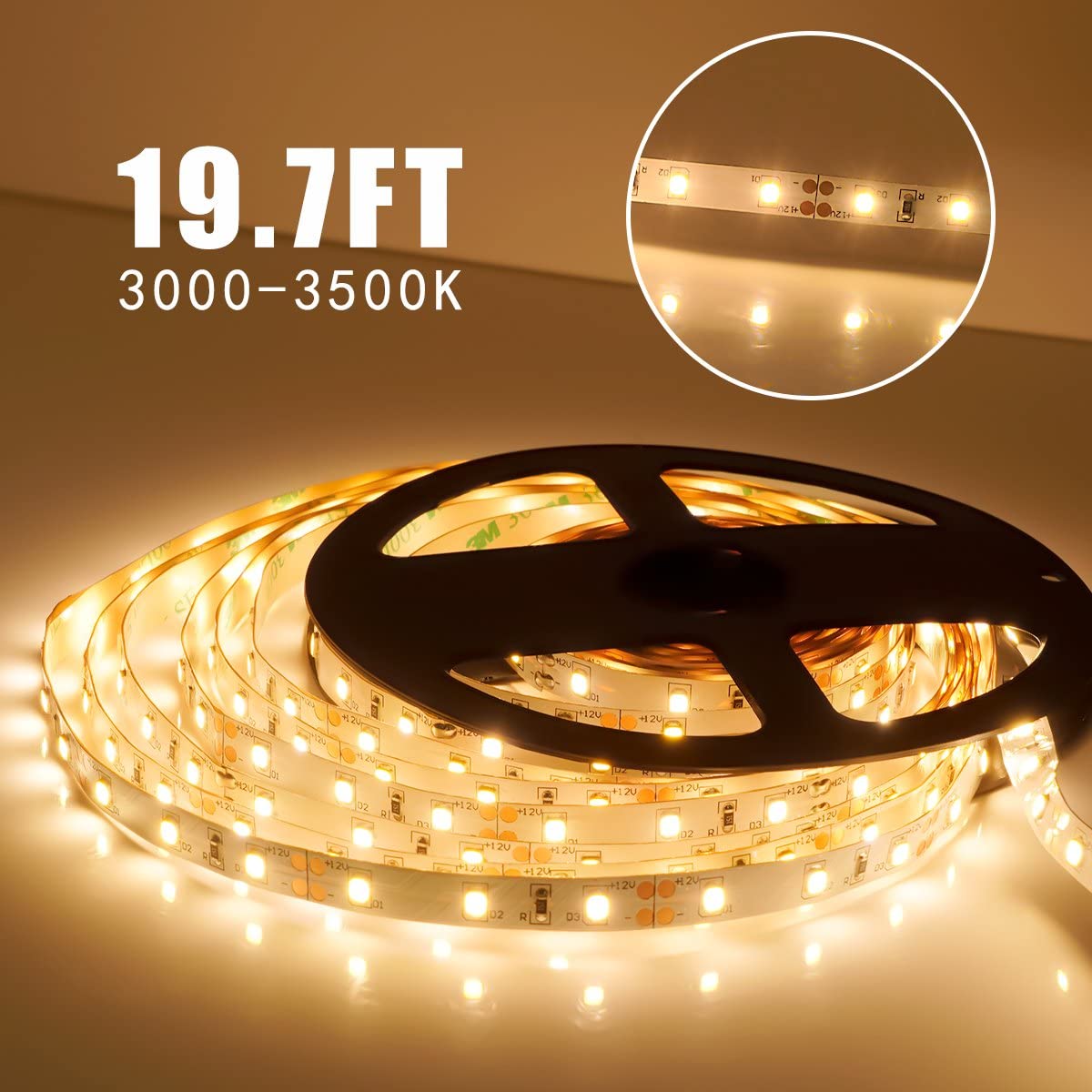 Cool White/Warm White
2.5M/6M Available
DC 12V, Safe to Children, Efficiency Level V
12 Months Satisfaction Guarantee
Warm white is like the traditional yellowish color of a conventional lamp with a color temperate around 2700K. This would be the ideal and the most popular choice for homes.
Cool white looks modern, cleaner, with more of a cold and sharp feel, with a color temperature around 6000K. Cool white light contains more blue light and looks brighter to the eye.
If you want to introduce a bit of color to your home or workspace, add great mood and theatrical lighting effects for the atmosphere, you need colored LED strip lights to add the "wow" factor. Slim and flexible, these ingenious, colored little light strips enable you to illuminate even the narrowest surface areas and bring in shades of red, green, blue, RGB multi-colored lights with either a fixed color or variable color.
Some of the LED strip lights are compatible with a special remote controller, which is designed for controlling LED color-changing strip lights. These efficient LED strip lights not only allow you to have high control over your LED strip lights, they ensure that you get the best possible lighting experience, allowing you to set multiple settings such as flash, strobe, fade, and smooth, in almost millions of colors.
Voltage Options
Motion sensor LED strip lights are flexible with their power supply. There are hardwired led light strips, plug-in led strip lights with power adapters, battery-operated led strips, and even solar-powered outdoor strip lights.
Users are free to choose the suitable power supply types for their use. If you need long and fixed strip lights, then hardwired or plug-in type is the best option. If you need to place the strip light in interior spaces such as inside closets or under cabinets, battery-powered light strips can fit nicely.
Where to Use Motion Sensor Strip Lights
LED lighting has become popular additions to nightclub décor, because of its ability to outline and create illuminated visuals in different colors. They are also being used at weddings and birthday parties, along bar tops, cocktail tables, and chairs. They can be used for signs, to indicate where the restrooms, bar or exits are.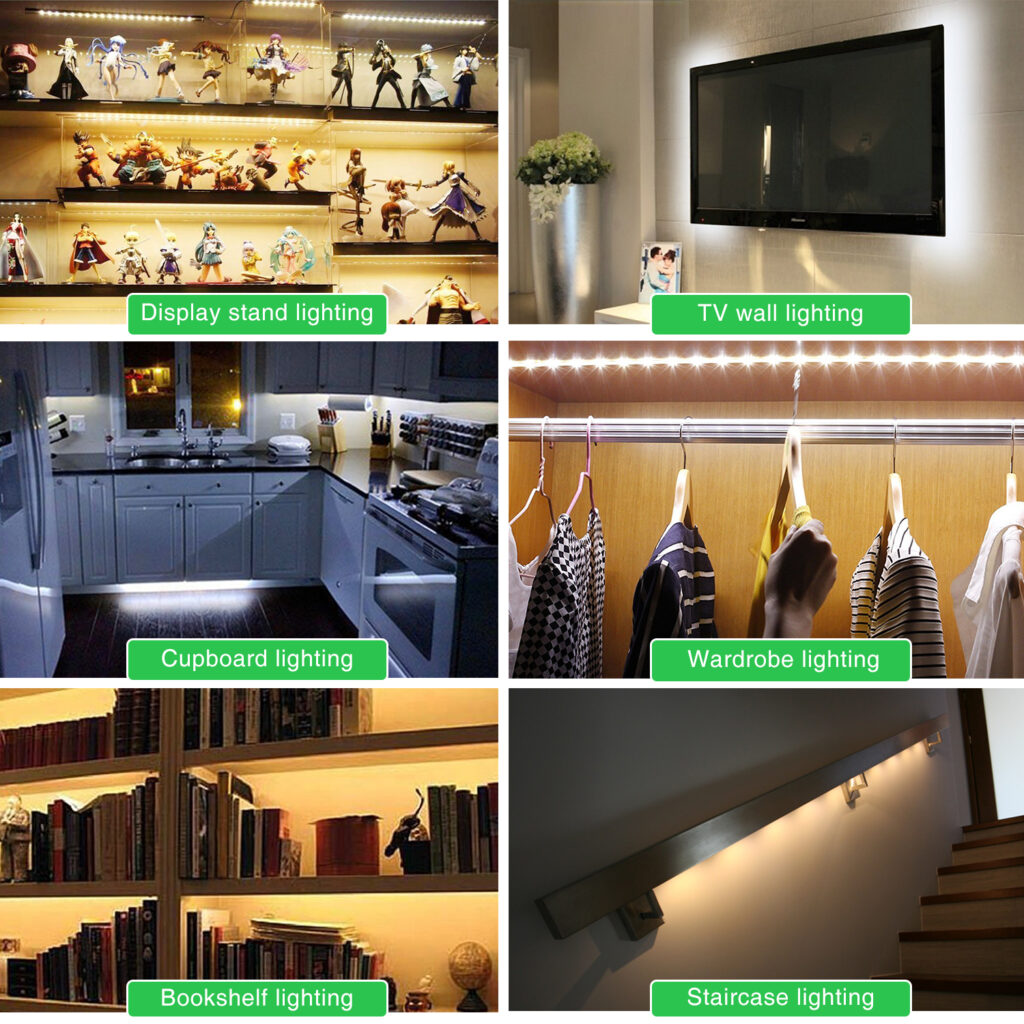 Bedroom & Bathroom
Motion sensor strip lights are a better upgrade for the motion sensor night light with more of a decorative lighting. You can place the strip light around the bedside and motion sensor detecting people. When people stand beside the bed, the motion sensor will active the strip light, providing illumination not too strong but enough for navigation.
When used in the bathroom, the motion sensor strip lights can be placed under the sink to replace a regular motion sensor light. Remember to use an IP waterproof strip light when used in the bathroom for safety.
Under Cabinet and Stairs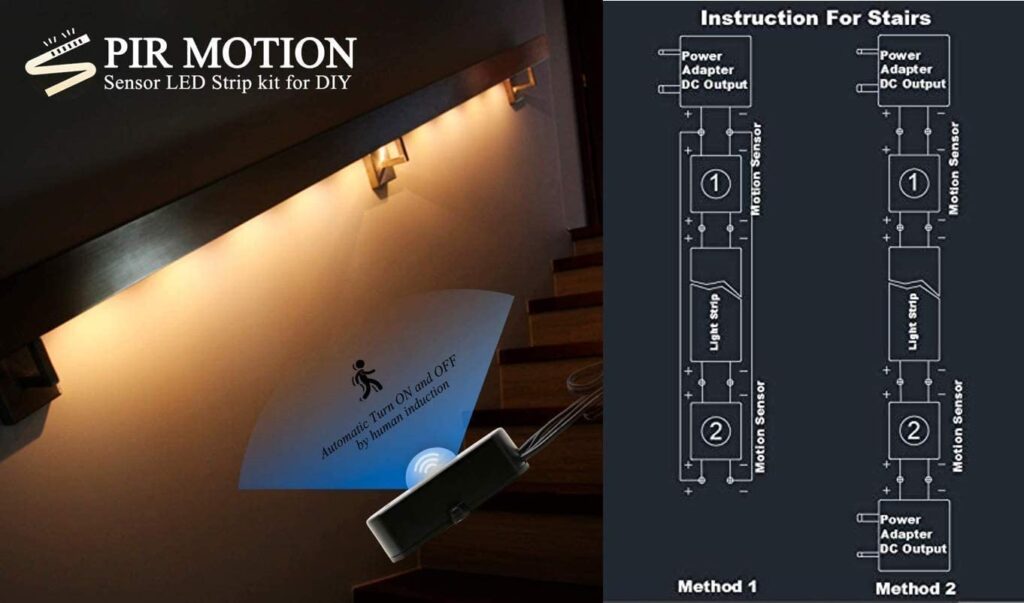 One significant advantage of motion sensor strip lights is that they can easily fit into any size and shape. The flexible strip lights can be placed along the edges, under cabinets, or the stairs to light up the entire outline. Strip lights can illuminate the entire outline of the area, while regular motion sensor lights are only able to illuminate a specific area.
Outdoors
Outdoor lights generally need to be far more powerful than those used indoors. Again, different parts of indoor spaces such as work tables, counters, corridors, and stairways may need better lighting.
Yes, you can use motion sensor strip lights outside, but you need to use waterproof strip light with at least an IP 65 rating, which is able to withstand jets of water from any direction.
How to Install Motion Sensor Led Strip Light
To install a standard LED stip light is simple: Connet the power adapter female adapter to the strip light's dc adapter.
When installing a motion sensor led strip light, it's similar with just an extra step to insert the motion sensor controller between the strip light and the power.
To install a motion sensor led strip light: connect the power adapter to the motion sensor controller and connect the motion sensor controller to the led strip led. Eazy.
How to Cut Led Light Strips
Getting creative couldn't be easier with LED color around the home. These strips can be cut once without the need for you to make new connections. They can be cut in 5 or 10 cm spaces and you will be able to see the cut marks, so you will not need to hire a professional. All you actually need is a pair of scissors.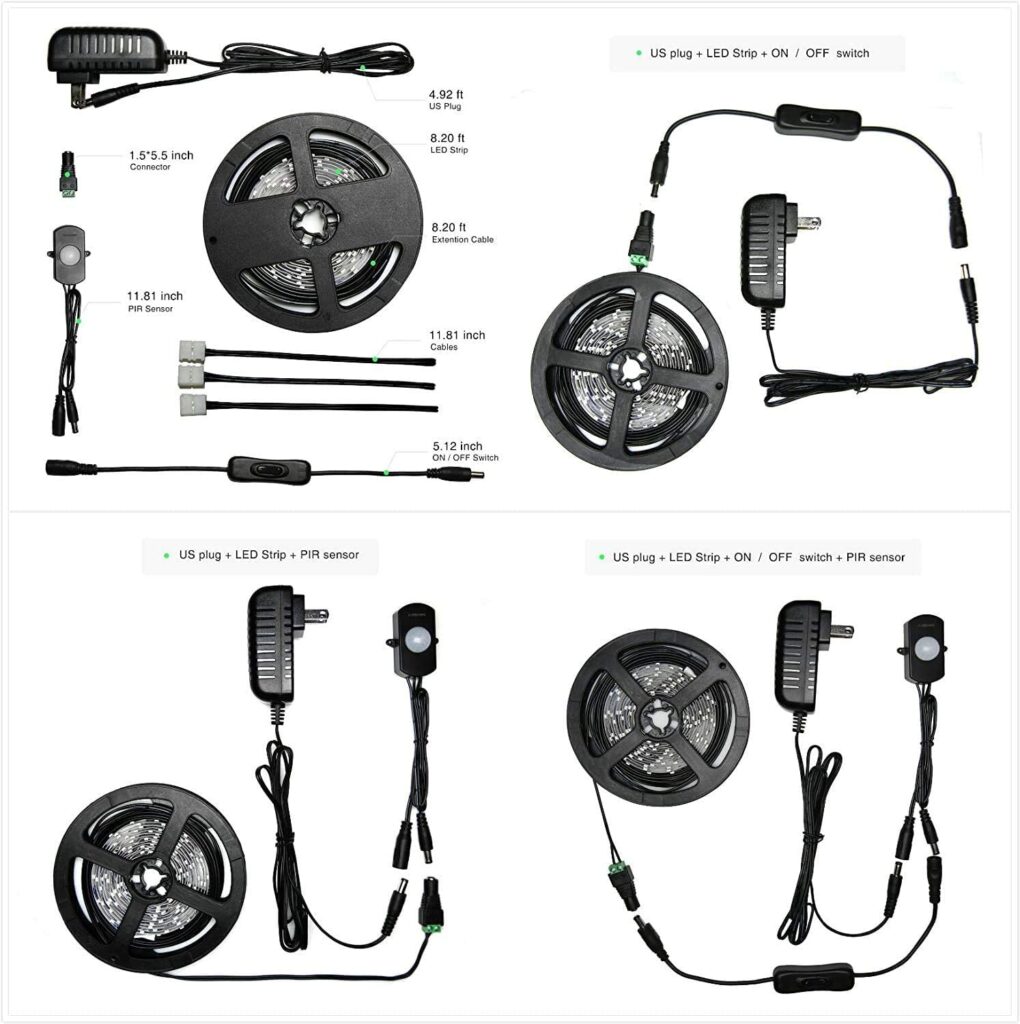 Take a look at the led strip light, it usually has an icon of scissors where you can cut the strip light.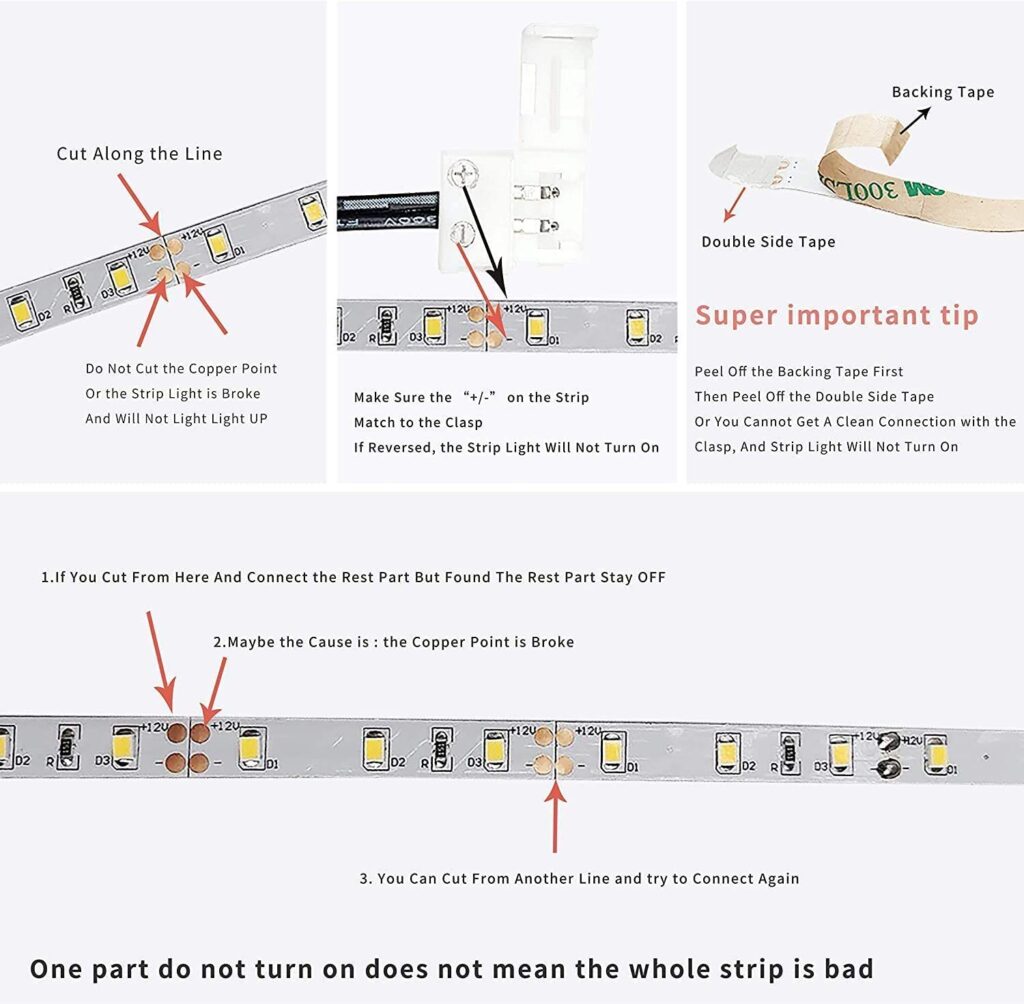 If the strip light is short, you can use a strip light connector to connect two strip lights together.
Choosing the Best Led Strip Lighting
LED strip lighting is becoming more and more popular in recent years. This is because of the efficient radiance it produces for homes as well as offices. Aside from that, it also elegantly provides illumination. However, there is no "one size fits all" strip lighting. It is in this light that there are various things that buyers need to ponder. This is usually at times when they are planning to purchase such products for their own homes.
Among the top 5 things that people need to consider before buying an LED strip lighting include its size or type, number of light-emitting diodes (LEDs) within a strip, color temperature, as well as its flexibility and even the carrying capacity.
Picking the Right Type and Size of Strip Lighting
The primary consideration of many people, when it comes to buying an LED strip light is its size and type. This is because these aspects directly affect the brightness as well as the performance of this product. For example, if the size of the diodes is small, then its power would most likely be lower too. The reverse is true too. If the diode is bigger, then it would emit brighter lights too.
Number of Diodes within the Strip
The number of diodes in a length is also a hugely crucial aspect to consider. This is because if the buyer wants a brighter strip, then the spacing between the diodes should be smaller. Hence, what this means is that the number of the diodes for every meter of the strip, the brighter the illumination would be. However, smaller intervals would require a higher level of technology in order to handle the power and other requirements of such item.
Colour Temperature of the LEDs
Thirdly, there is a wide array of LED color temperatures available nowadays. As a matter of fact, name it and people may have it. This is because, with this new RGB technique, these diodes can produce a combination of these basic colors to come up with other color temperatures. It is extremely valuable, not only for fancy's sake, but for practicality too. For instance, there are some color temperatures that may look relaxing while there are also some colors that are more vibrant and active-looking. After all, it may depend on the purpose of the buyer for buying such item.
Flexibility of the LED Strip Lighting
Fourthly, there are also some buyers who want a more flexible LED strip lighting. While rigid LED strips are ideal as a replacement for fluorescent bulbs as well as for flat surface installation, buyers can do almost anything to their flexible strip.
The Right LED Lighting Capacity
Fifthly and lastly, the carrying capacity of the LED strip lighting matters too. In a general sense, strips like these have a remarkably low carrying capacity. However, there are some heavy-duty LED strips that can be bought in the market today. Nevertheless, these are not usually available for household or home installations and applications. Instead, these are ideal for commercial and industrial uses.