Motion sensor lights are one of the most worthy investments for your home improvement and safety. A motion sensor light can not only provide illumination as a regular light does, but it can also add automation and a convenient lighting experience to your home that the lighting automatically turns on and off for you, completely hands-free.
Unlike outdoor motion sensor lights, which focus on providing ample illumination coverage and detecting suspicious activities as a security light, indoor motion sensor lights vary in style, providing convenience, sufficient lighting coverage in compact areas, and adding to your home decoration.
What Is a Motion Sensor Light
A motion sensor light is a motion-activated light that has a motion sensor connected to the light bulb or light fixture. When the motion sensor detects people nearby, it will trigger and turn on the light and keep it on for a while. When the motion sensor detects no people around, it will turn off the light to reduce electricity consumption.
When we want to have an indoor motion sensor lighting system for our home, we usually utilize motion sensor light switches to control the main ceiling lights. A motion sensor light switch is a light switch with a built-in motion sensor, quite similar to how a motion sensor light works.
The benefit of using a motion sensor light switch for the ceiling lights is that we can have more direct manual control of the lights on the wall switches. Imagine you've installed a motion sensor light on the ceiling, but you have to wait for the light to automatically turn off after the time expires(maybe 10 minutes) with no manual direct control. With a motion sensor light switch, you can instantly turn the light off by pressing the button on the wall switch.
With that said above, the indoor motion sensor lights are mostly small and independent lights used in small and compact areas where the ceiling lights cannot provide full illumination coverage or the place where the motion sensor light switch cannot detect. For example, an under cabinet light placed below your home kitchen's cupboard can be extremely helpful because the ceiling light is somehow blocked by your body and the cupboard that leaving shadows while you are cooking. In the meantime, a regular manual-operated light is not suitable for this situation because your hands are too wet and oily to press the light switch button.
How Indoor Motion Sensor Lights Work
A motion sensor light turns on when the motion sensor detects motion and turns off when it no longer detects motion. The motion sensor controls the power to the light, and only when the motions sensor is triggered can the light get power and turn on.
So any regular light that connected with a motion sensor can be a motion sensor light. Though many motion sensor lights would have the motion sensor built-in inside the light fixture for integration and direct installation, there are some other great product examples as well.
Especially from indoor motion sensor lights, we can see that many products are simply a combination of a light and a PIR motion sensor. Simple ideas but works perfectly well like magic, such as a motion sensor strip light.
The indoor motion sensor lights mostly use a passive infrared motion sensor as the motion detector because the PIR motion sensor is highly durable, consistent and cost-effective. The PIR motion sensor can detect motion very well within the range from 20 to 70 ft and turn the light on from 20 seconds to 30 minutes, depending on the setting.
Learn more about different kinds of motion sensors here.
Common Features
Indoor motion sensor lights are highly adjustable for users to alter for the best performance. Usually, the common features available in motion sensor lights include:
Adjustable Working Modes
Most motion sensor lights are automatic and completely hands-free that you can install, set up and forget about it. They may also provide many practical and user-friendly functions, such as manual mode, dusk to dawn mode and dimming mode.


The full automatic motion sensor lights are generally used for illumination where people pass by, such as stairs and hallways. You can place the motion sensor lights there and they will work out of the box and you don't have to worry about them.
For some places, such as bedsides and nightstands, where it's closer to people's living area, an adjustable motion sensor light can be more valuable. People can make modifications according to their preferences to make the motion sensor light suit their actual needs.
Ambient Light
The ambient light feature, also known as the light-sensing feature, is a helpful feature commonly seen in motion sensor lights. These lights would additionally include a light sensor inside the light bulb or light fixture to detect the environmental brightness. In simple words, the light is both a motion sensor and light sensor light.
The light sensor compares the LUX of the ambient light to the user-selected value. If the ambient light is bright enough and higher than the light sensor's LUX value, for example, in the daytime, then the light will stay off no matter the motion sensor detects motion or not. Only when the environment is dark and below the LUX value the motion sensor will activate the light when it detects motion normally.
The ambient light feature takes a step further for reducing electricity waste in the daytime. Most motion sensor lights would either have a fixed light sensor value or some levels of per-set LUX value from OFF, 15, 25 to 35 LUX for the users to select. The higher the LUX value, the more energy it can save.
Time Delay
When the motion sensor is activated and turns on the light, the light will keep on for some time and then turn off. The time delay is the time period for how long the light is kept ON.
Most indoor motion sensor lights allow users to have controls overtime delay, from seconds to minutes. Apparently the shorter the time delay, the more energy the motion sensor light can save.
But a short time delay might cause the light to accidentally turns off while you are still in the area if the motion sensor cannot detect your presence very well, which is known as a false-off. A longer time delay may reduce false-offs, but it consumes more power, keeping the light ON.
For various applications, the time delay requirement is different. For places where you only need a light when you walk past by, like the lights on the stairs, you can set the timer to a low number.
A longer time delay is better for places where you need to spend some time doing things, like in the closet selecting clothes or under the kitchen cupboard cooking.
It's always the best practice to test and alter the time delay until you figure out the best time setting.
Sensor Sensitivity
The sensor sensitivity controls for how sensitive the motion sensor is, in other words, for how far the motion sensor can detect movement. Most indoor motion sensor lights would allow users to tailor the setting from low sensitivity to high sensitivity at least.
People might wonder why you would set the senility to low, is the high sensitivity not always a good thing? Well, the high sensitivity might cause problems as well.
For example, when the light accidentally turns on quite often, even when there are no people around, it's possible the motion sensor is too sensitive that it is detecting motions that you are not aware of, or it sees you from far away. This false-on would cause unnecessary energy waste, and it could be quite annoying. In this case, set the sensor sensitivity to low.
If the motion sensor is not reacting to your movement accurately, a high sensing sensitivity might solve the problem.
If the indoor motion sensor light you bought is not available for customizing the sensitivity or detection range, you should spend more time testing and finding the best location to place your lights. With adjustable motion sensor lights, you can put the light where you like first, then alter the sensitivity settings for the best detection performance outcome.
Why Use Indoor Motion Sensor Lights
Indoor motion sensor lights are easy to install, supplementary to your main lighting, and they have some great benefits over manual controlled lights:
Hands-Free Lifestyle
Motion sensor lights are automatic, work out of the box and require no touch, making them child, elderly and disabled friendly.
When you walk into a dark room, you don't have to go find the light switch. The lights will turn ON for you as soon as you enter the room and shut off after you leave.


Some people might wonder why they would need a motion sensor light if they are so familiar with the layout of their houses and can walk in the dark or quickly find the light switch, but what about your guests and relatives?
And no matter how familiar you are with your house, ample illumination is still necessary for some places, such as in your closet and cabinets where you need to look for things. A closet or cabinet motion sensor light can save you a lot of effort with proper illumination.
Cutting Electricity Bills
Even if you are aware of saving energy and remember to turn off the light when you don't use them, there is always some time we will be leaving the lights on without even noticing because the lighting is really an easy thing to neglect, especially in the daytime.
Using an indoor motion sensor light with a properly set time-delay and lighting sensor value, you can instantly start saving energy and cutting electricity bills up by at least 30% and sometimes up to 60%.
Saving energy could be never this easy with only one simple change in your home lighting plans: upgrading your indoor lights with motion sensor ones.
Prevent Injuries in the Night
Night lights, stair lights and bathroom lights can add safety to our home and prevent injuries at night. The children and elderly are less likely to fall or get tripped with the ample lighting for navigation at night.
Even for the adults, the motion sensor lights in the storage room and garage can help them get away from getting hurt by the sharp corners or unseen obstacles hiding in the dark.
Decorate Your Home
Indoor motion sensor lights, especially strip lights and light bulbs, are incredible decorations to light up your home. With warm lighting or colorful lighting, you can add a more personalized lighting atmosphere to your home life.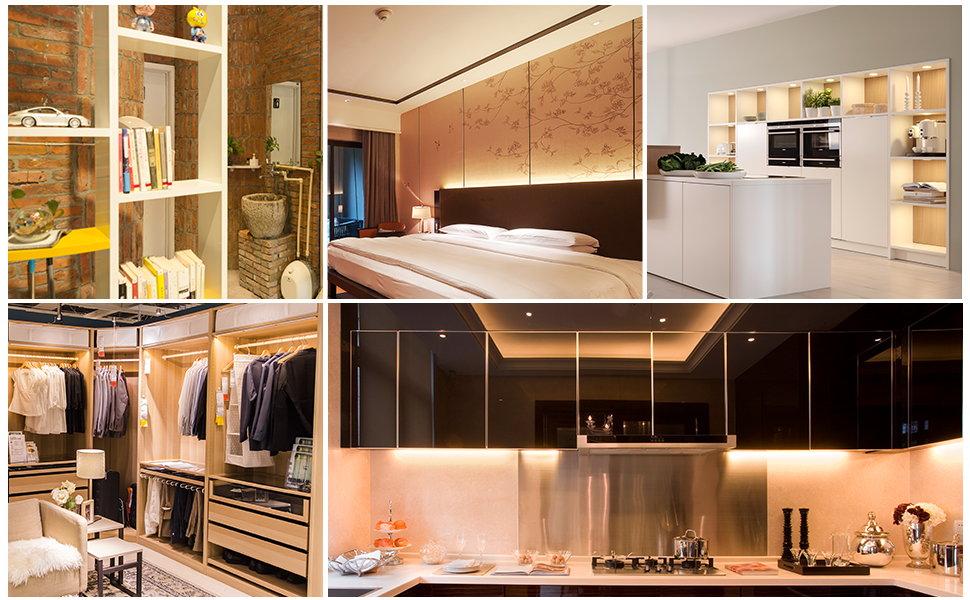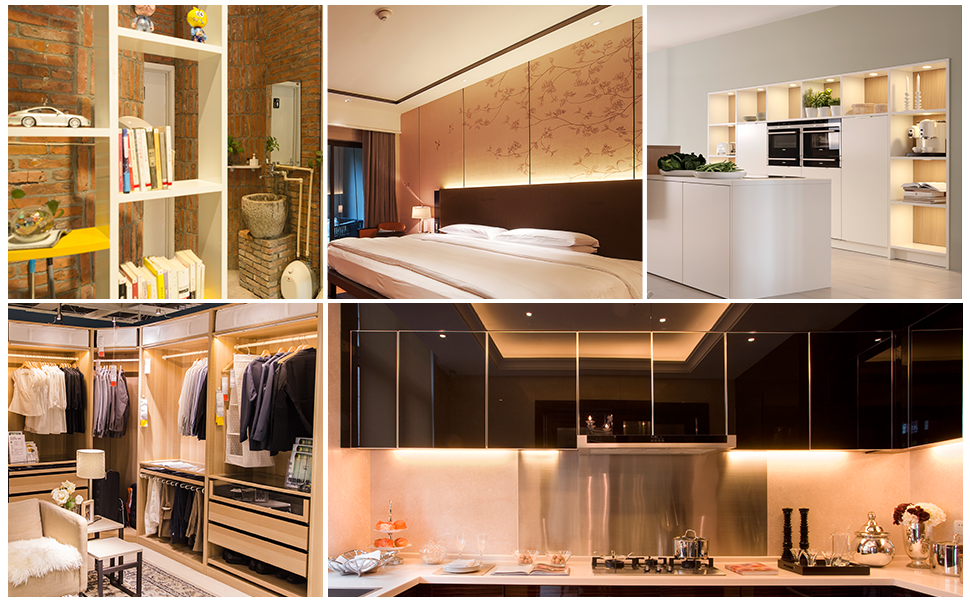 You can place motion sensor strip lights long the stairs, below the steps, or under your bed. With a small time delay, these strip lights won't cause light pollution at night or ruin your sleepiness after you get up in the middle of the night.
Easily Install Everywhere
One last reason why you should start using indoor motion sensor lights is that they are can be installed everywhere in your house.
With the stick-anywhere type of lights, the installation is quite easy, and you can attach the light to any wood and metal surface without a problem.
The battery-operated motion sensor lights can last for an average of one year or plus and has no limit for wiring or outlets, so you can place them everywhere you prefer, especially those small and compact areas that lack illumination coverage such as cabinets, closets, under bed or stairs.
Types of Indoor Motion Sensor Light
Motion Sensor Night light
Every home could use some motion sensor night lights in some of their rooms. Regular night lights keep on all night, and it's a total waste of energy.
A motion sensor night light only turns on when you walk by, and the light will keep off the rest of the night. Motion sensor night lights can save a lot of energy because most people won't even get the chance to use the night light for most of the nights. And even when you get up in the middle of the night, going to the bathroom, the night light will be only useful for you for that several minutes. The rest of the night, the illumination is a total waste.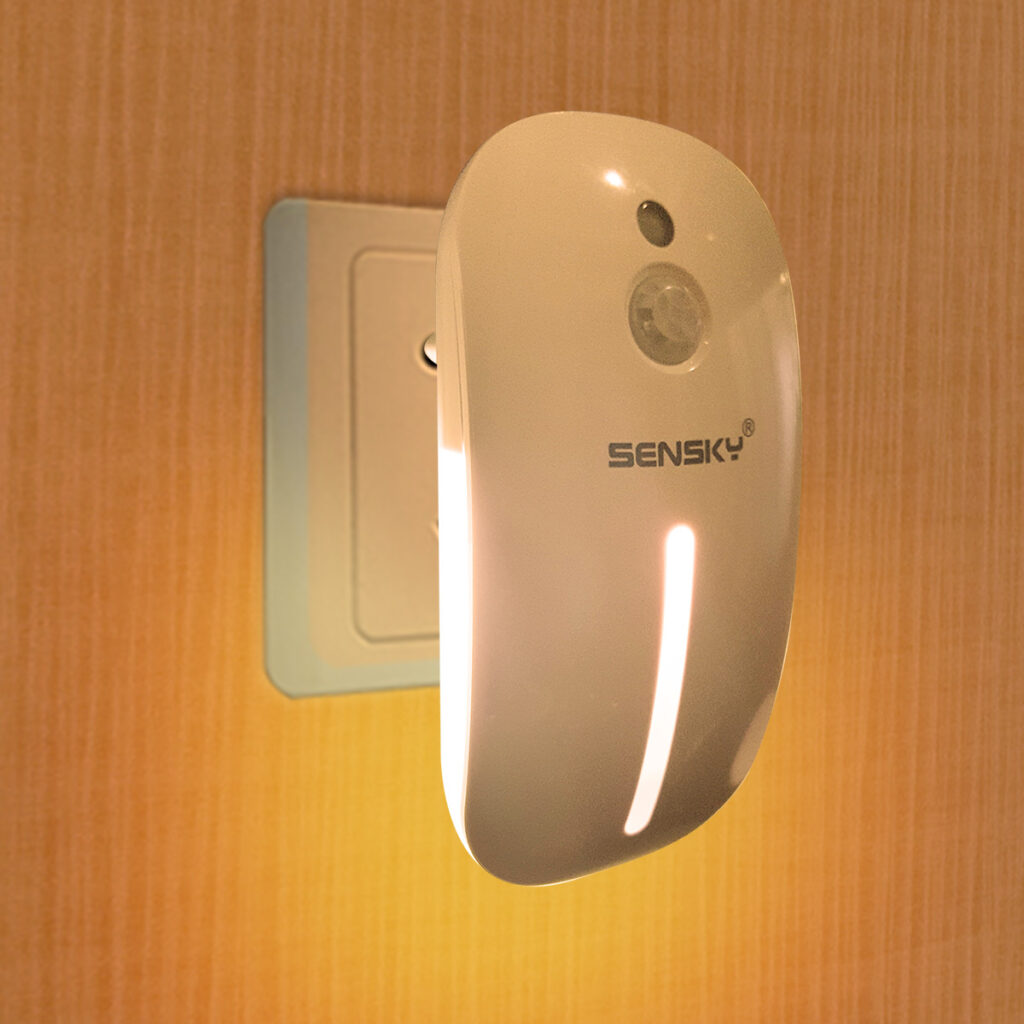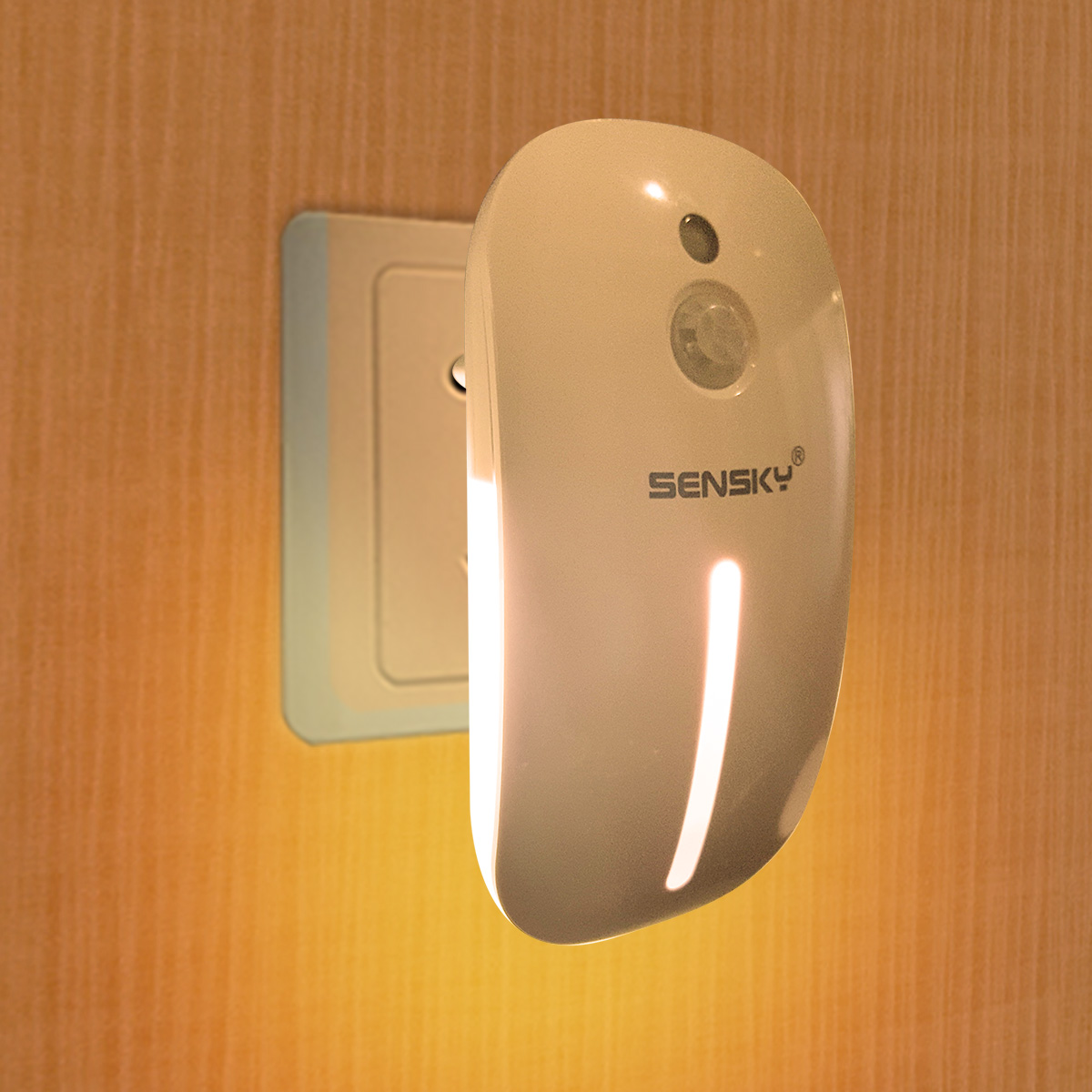 Some homeowners may need to keep some light on all night so they can feel safe then go to sleep. With a dimming motion sensor night light, you can have the best of both worlds that the lighting is dimming all night, consuming little electricity and turns fully on when you get up in the night and walk near the night light. After you get back to bed, the night light will become dimming again.
Motion Sensor Light Bulb
Motion sensor light bulbs are a quick solution for motion-activated lighting without any extra installation process. The motion sensor light bulb has a PIR motion sensor embedded at the tip of the blub that can detect any people walking down past the motion sensor and instantly turn the light bulb on.
The motion sensor light bulbs are the same size as standard light bulbs and can directly fit into your light socket. Usually, the light bulb is auto on/off and works out of the box. It's a simple but genius invention that can solve your real problems when you only have a light socket but require some motion-activated lighting control.
Motion sensor light bulbs can be an excellent work-a-around solution for your storage room or doorways. You can simply replace the regular light bulb with a motion sensor light bulb to make the light motion-activated without any more handwork. But the motion sensor can only detect people downside the light bulb and is completely auto on/off, so you cannot have much control over the light.
Motion Sensor Strip Light
Motion sensor strip lights are great to be placed under beds, cabinets and stairs for both illumination and home decoration. Not every motion sensor light is meant to be used at night because the sufficient bright illumination they provide in the daytime might be too bright at night, which may ruin your nighttime experience.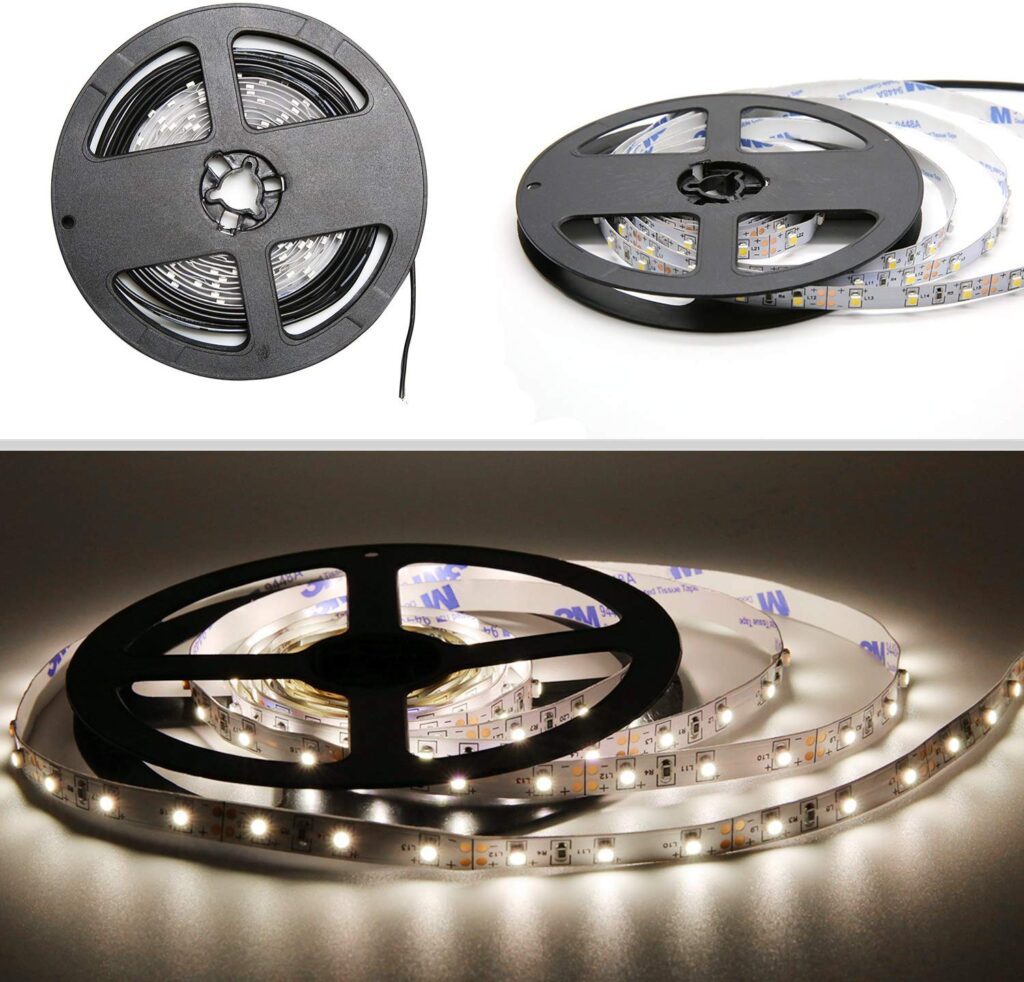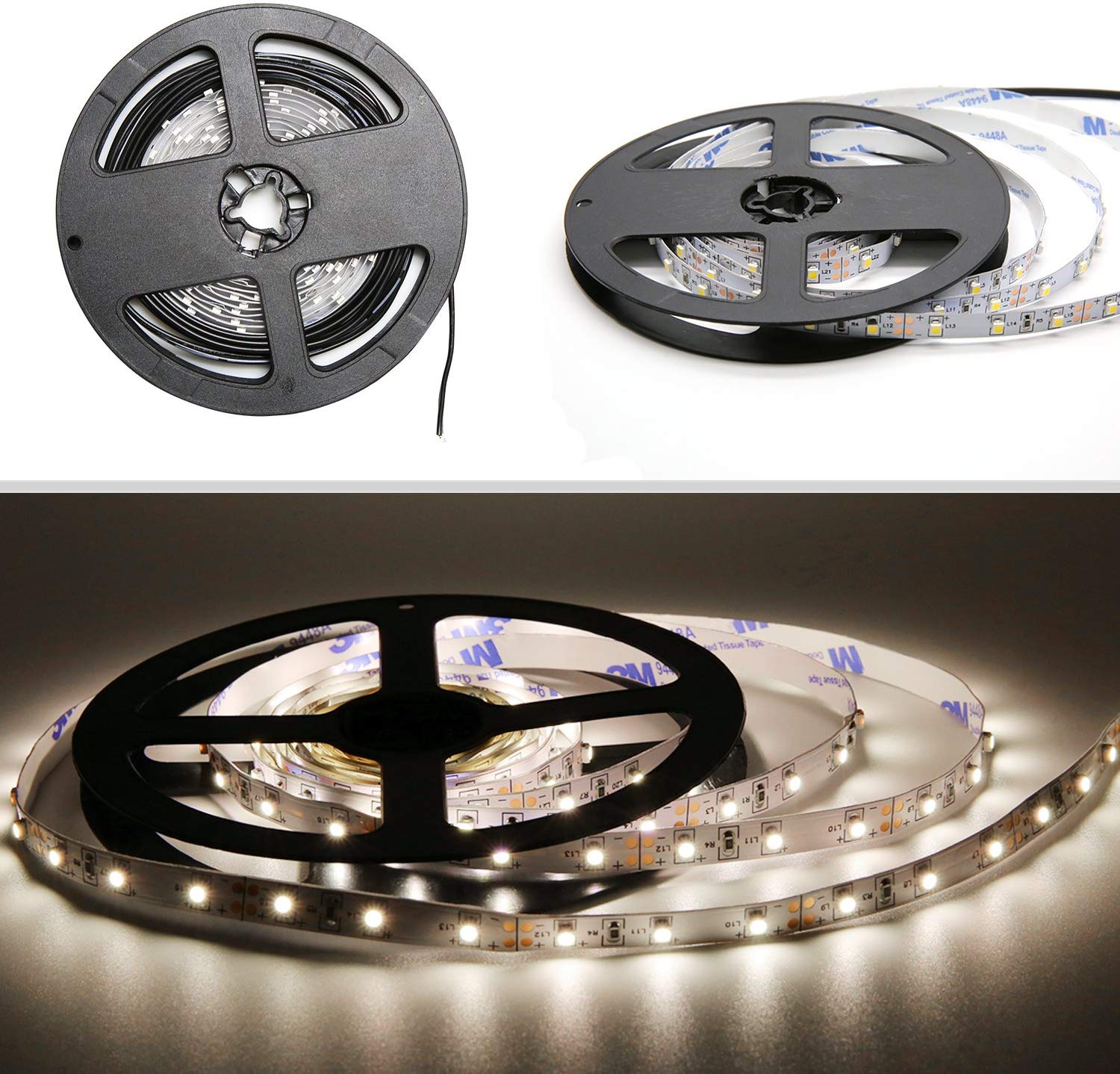 The strip lights are not too bright to hurt your eyes at night, but enough to light up the space. When placed under the bathroom cabinets, stairs or beds, homeowners can have enough illumination for navigation and the light from strip lights won't get you out of your sleepiness.
The warm white and colorful motion sensor strip lights are a great home decoration to light up your house, which has been trending in modern home decorations for years, especially among young people.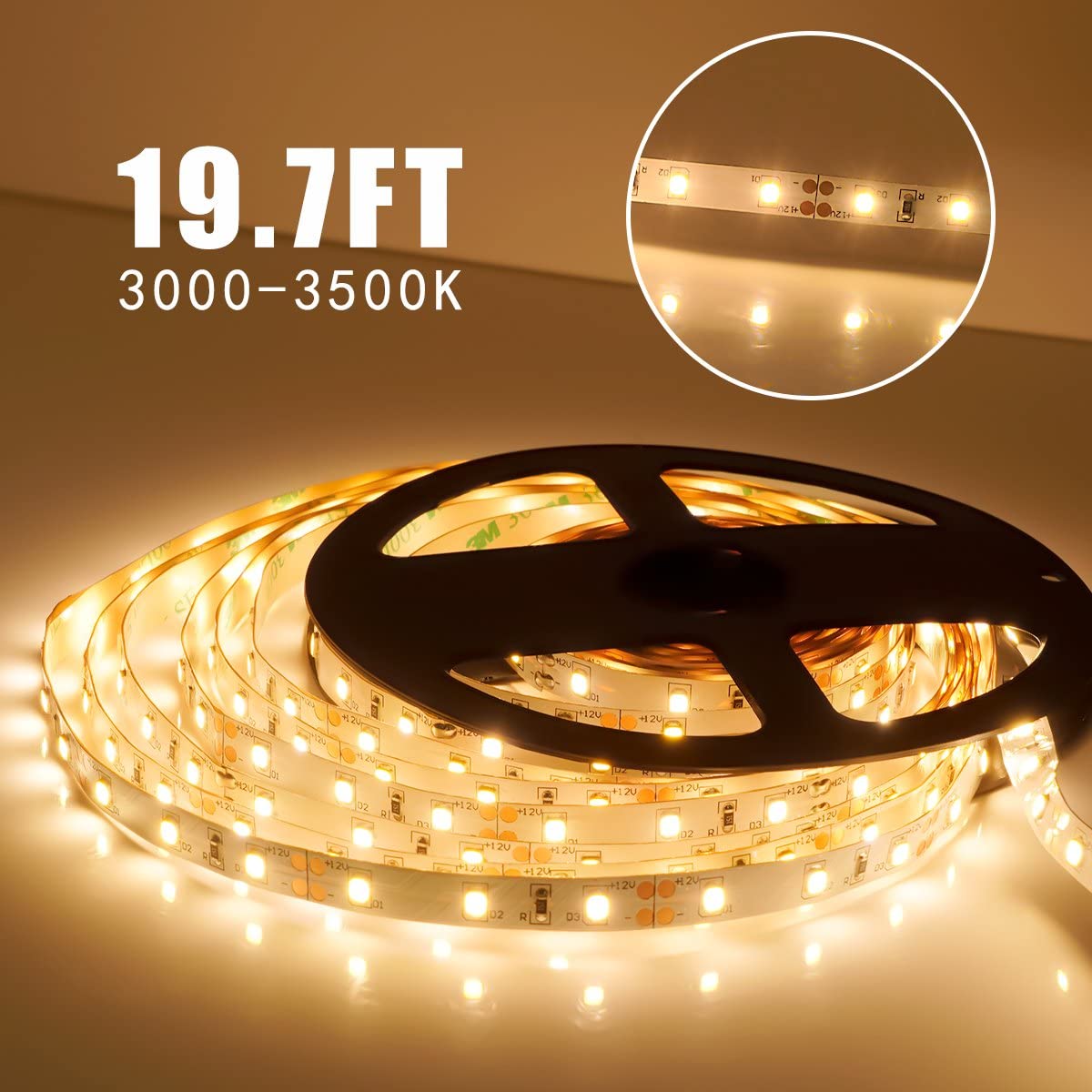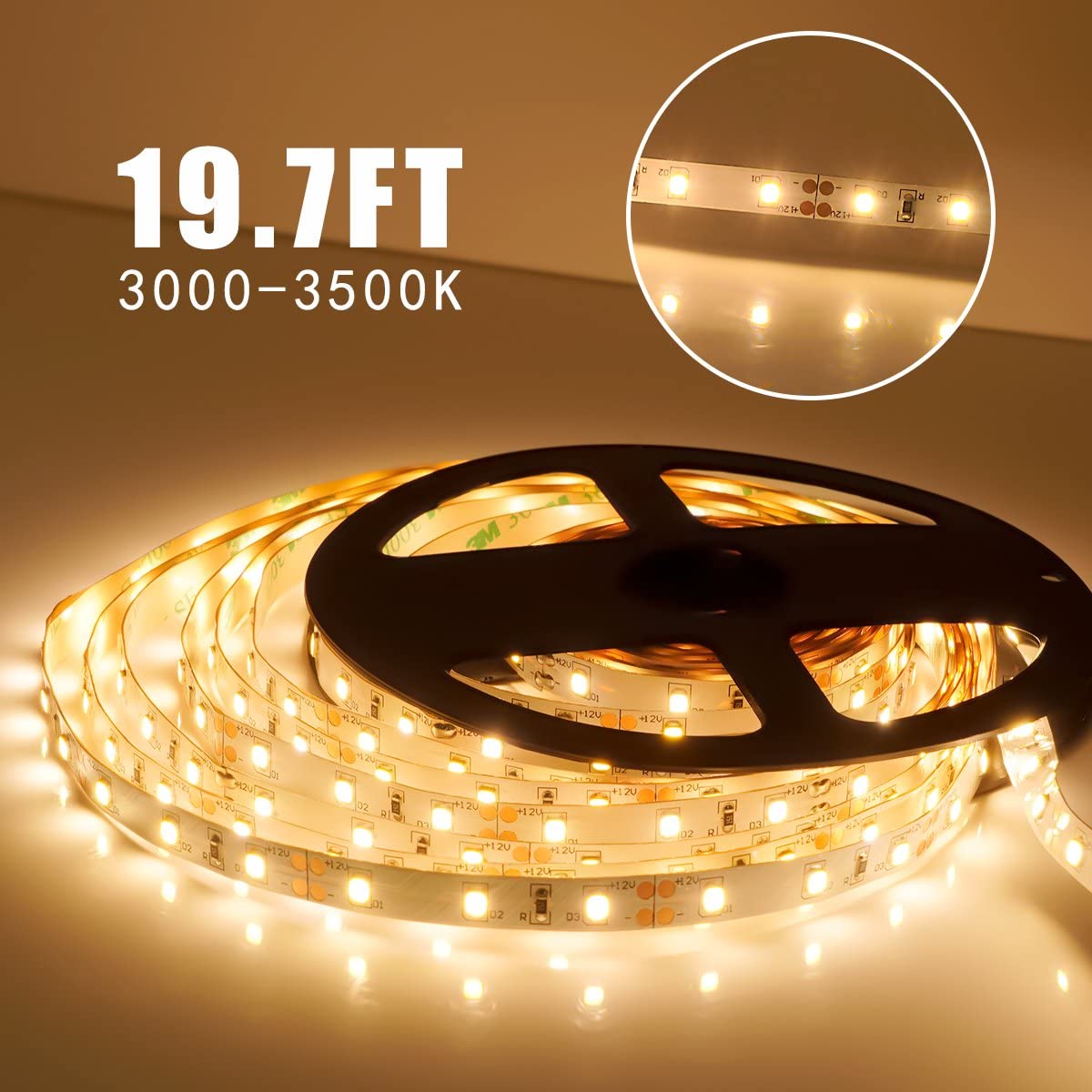 Cool White/Warm White
2.5M/6M Available
DC 12V, Safe to Children, Efficiency Level V
12 Months Satisfaction Guarantee
Motion Sensor Spotlight
Motion sensor spotlights project a bright beam of light to spot a specific area such as front doors, doorways, steps and corridors. Spotlights are compact in size, allowing them to be used in cramped areas as well.
The indoor spotlights can be used to illuminate your desk, kitchen, bar tables and doors.
Spotlights are usually wired and installed on the ceiling to directly replace your existing lights, so they are less popular now.
Choose the Best Motion Sensor Lights for Your Home
Now that you know a lot about indoor motion sensor lights, I assume you might be interested in buying one or more for your home. Let's walk through the process you'll need to follow to purchase the most suitable lights.
Power source
The first thing to look at is the power source. Do you have a wall box or wiring available where you want to install the light? If not, then you have no other choice but to select a battery-operated motion sensor light.
Hardwired or plug-in motion sensor lights can provide brighter illumination because they have strong and consistent power, and they give you fewer things to worry about once the lights are correctly installed and set up. But it does not necessarily mean that you have to choose a hardwired or plug-in indoor motion sensor. You can choose to use a battery-operated motion sensor light as long as you wish.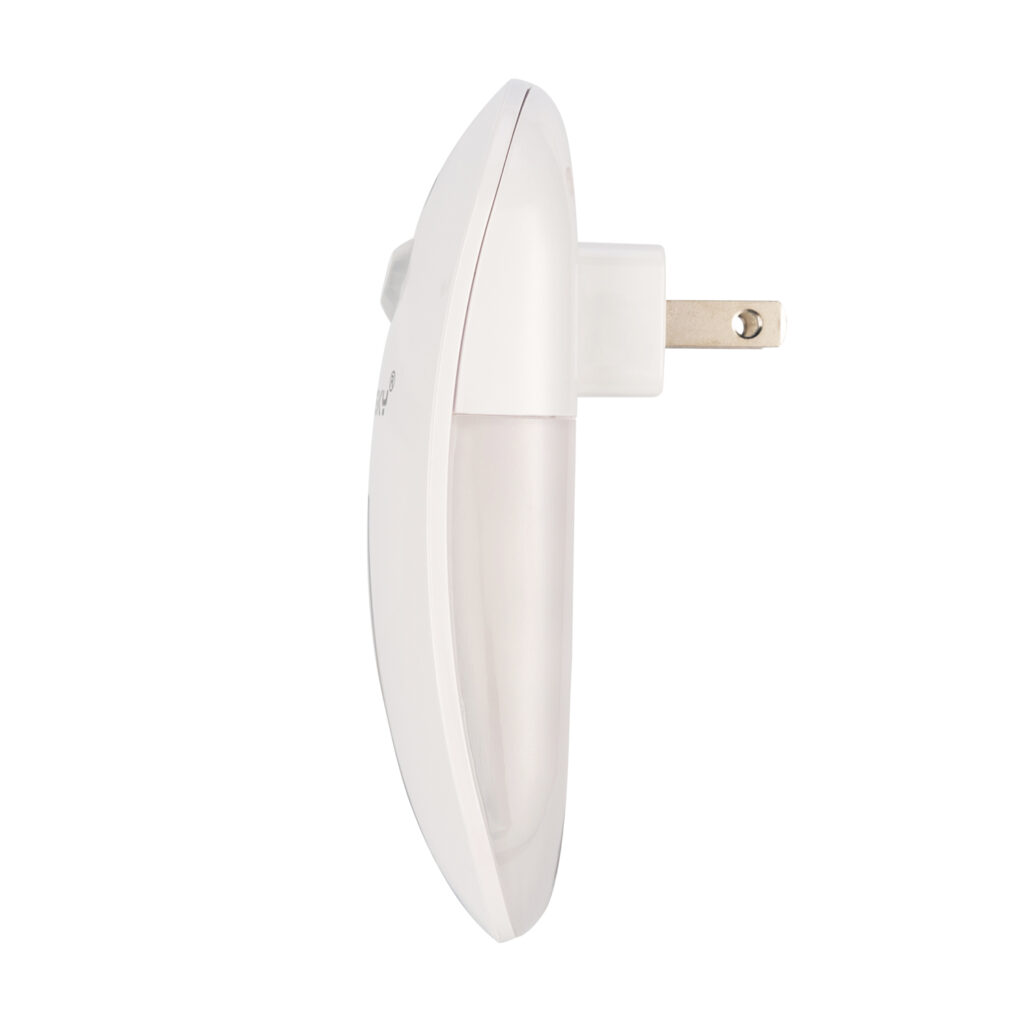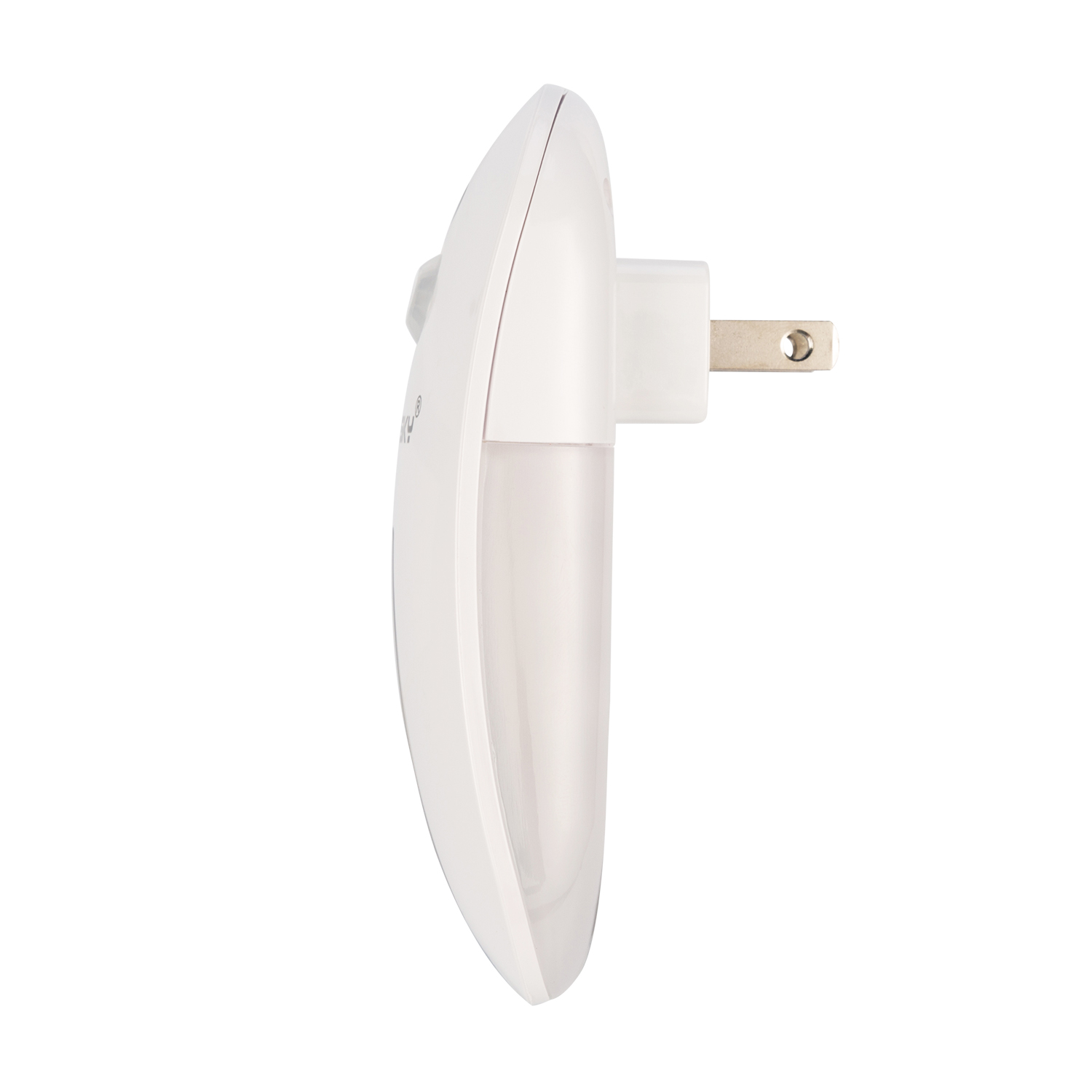 The battery-operated lights have nearly no limitations for where you can install them and they can last at least one year when properly used. So battery operated motion sensor lights are extremely popular among indoor motion sensor lights.
Installation
The second thing to look at is the installation. Some ceiling motion sensor lights require flush mount, so you need to have the junction box ready where you want to place it. If you do not have a junction box for insulation and wiring or don't want to bother adding a junction box, you should consider buying a stick anywhere type light.
The sticky anywhere type is the most popular light type on the market. You can use the adhesive types to stick the mounting plate to any wood or metal surface and stick the light to the magnetic mounting place. These types of light can be installed anywhere in your home and they are usually wireless, battery operated.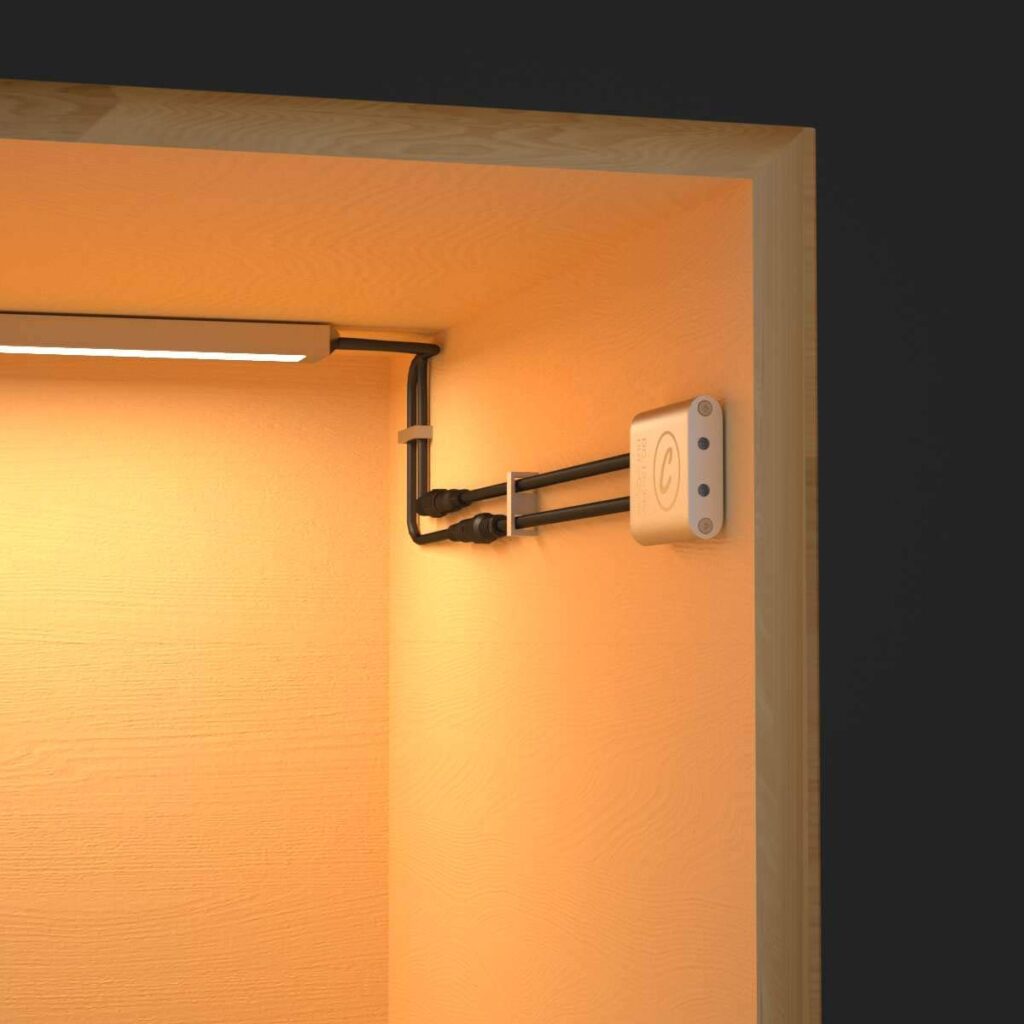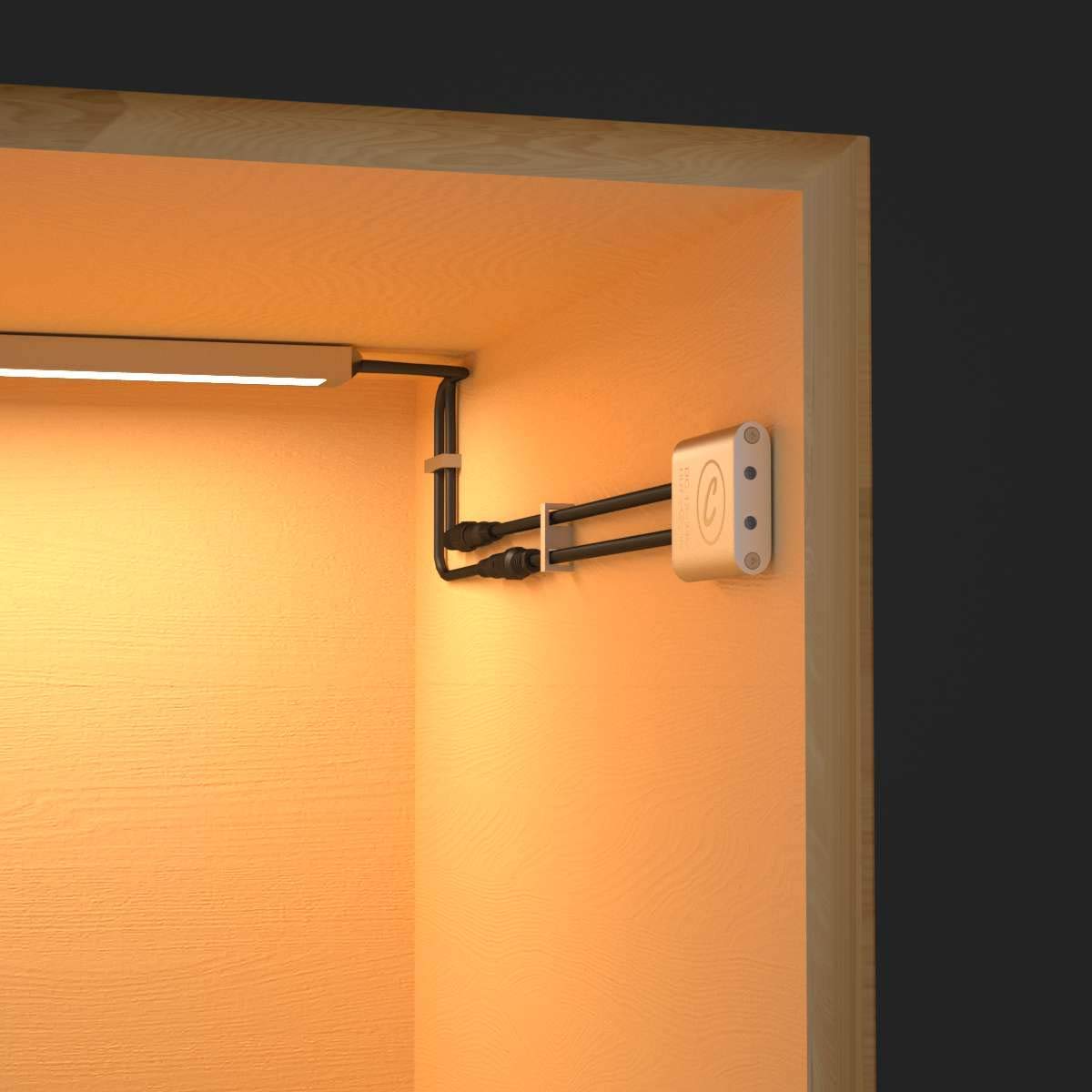 If you have a wall box, you can choose to use a plug-in type motion sensor light so you can install it directly into the wall box. The plug-in motion sensor lights are also popluar as they are portable and don't use batteries, primarily used among night lights. But be careful that the plug-in light might take up too much space that your wall box may not be able for other plug-ins.
Light Types
The third thing is to look at is what kind of lights you need to use, whether a motion sensor light bar, a round light, a strip light.
A motion sensor light bar can illuminate at only one direction which is great to be used under cabinet or in the closet. The illumination won't be spread around, so they can focus on illumanting certain areas.
A motion sensor round or square light can illumination at a 360 degree with a broader coverage that is often used in common lighting.
A motion sensor strip light is the most flexible one in installation, which is great to install along stairs and bedsides.
Best Applications
Closet and Cabinet
The compact areas are the best place to install motion sensor lights because they usually are lack of illumination. The ceiling light cannot fully cover the interior space of closets and cabinets so they are often dark inside.


Usually, these closet or cabinet motion sensor lights have a built-in magnet so users can freely stick the light to any iron surface directly. For another non-magnetic surface like wood cabinets or wardrobes, there is usually a steel sheet provided along with the light, so you can stick the iron sheet to the wood surface with tapes first and then stick the light to the steel sheet.
Bathroom
The bathroom is another place for using motion sensor lights. You can stick a small motion sensor light at the top of the mirror to provide lighting at night or place some strip lights under your bathroom sink cabinets for more of a decor purpose.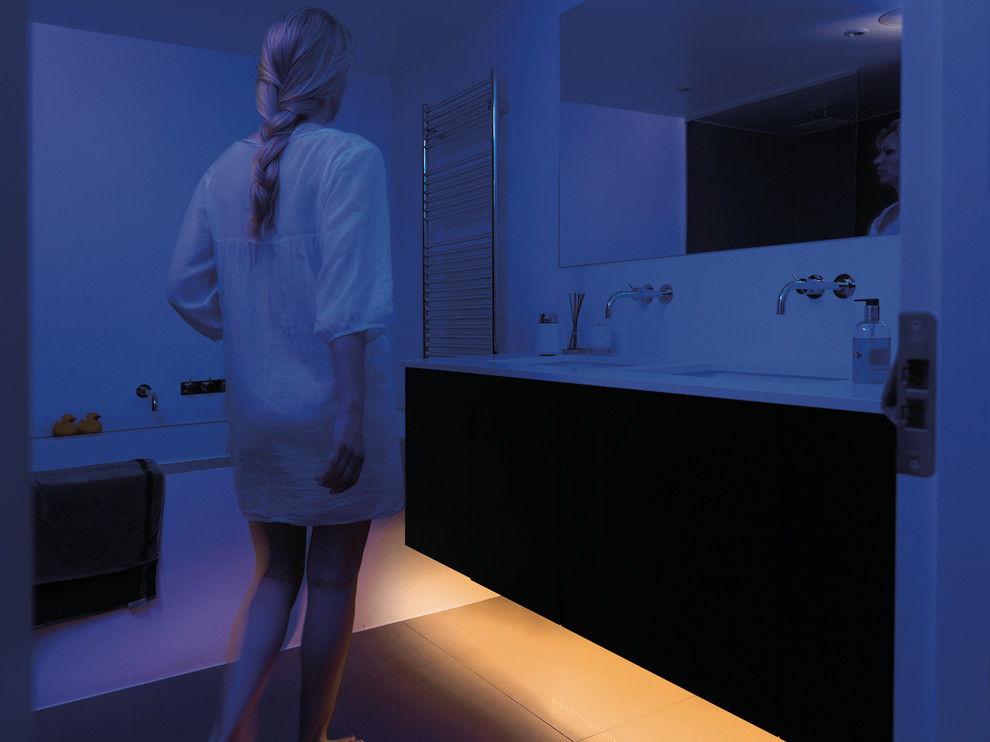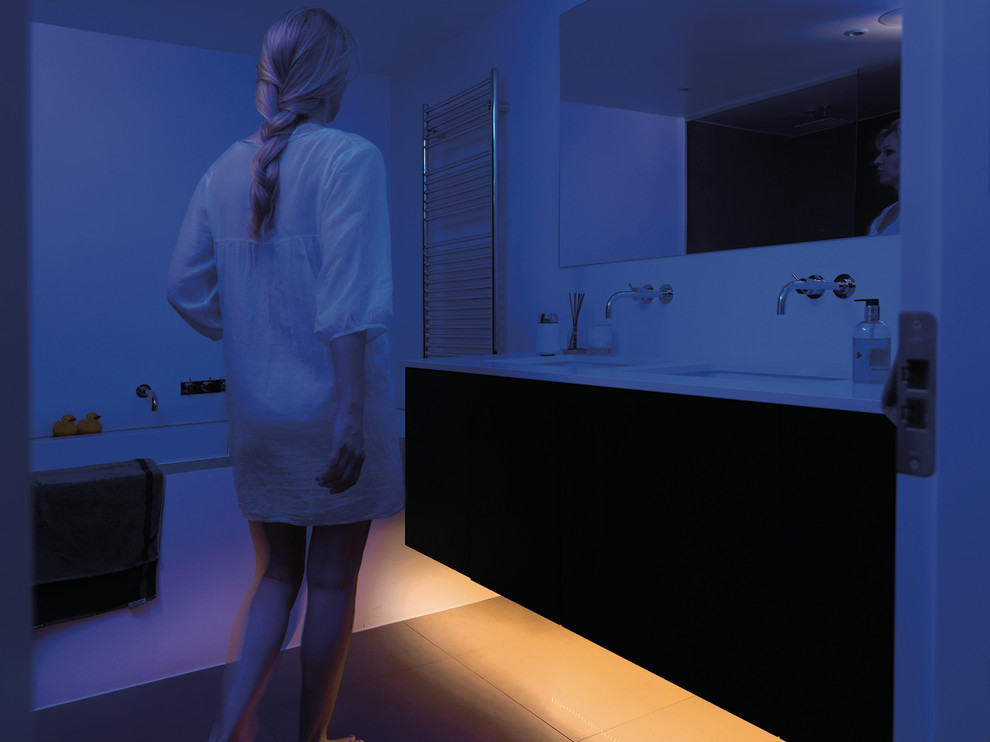 The bathroom is the most visited place at night so you should first consider upgrading the restroom with motion sensor lighting solutions.
Stairs Lights
If you have stairs in your house, it's highly recommended that you install proper motion sensor lighting around them. Without ample illumination at night, you might miss the steps and fall from the stairs, which may cause a serious injury. When you are drunk or sleepy at night, the risk of an accident significantly increases.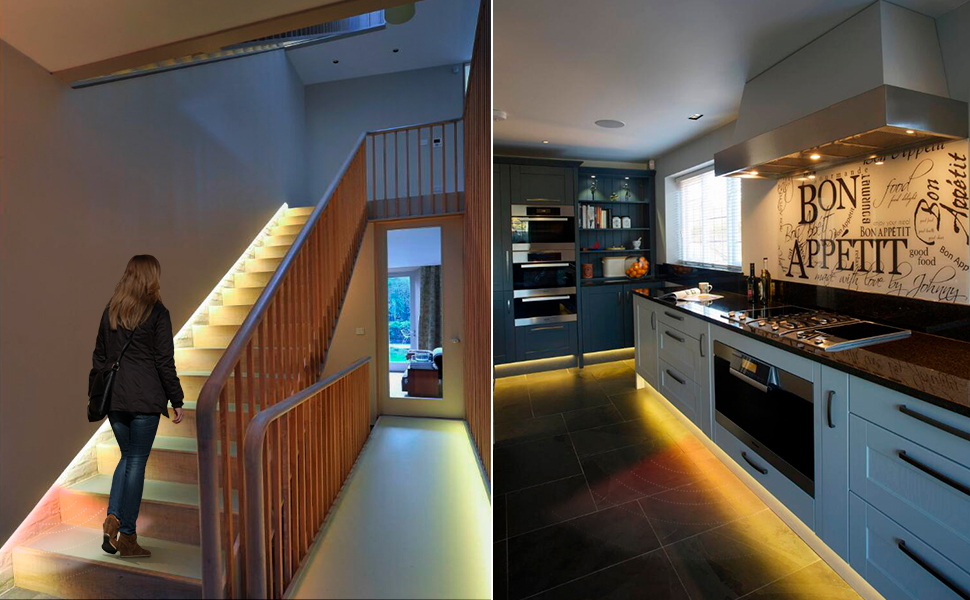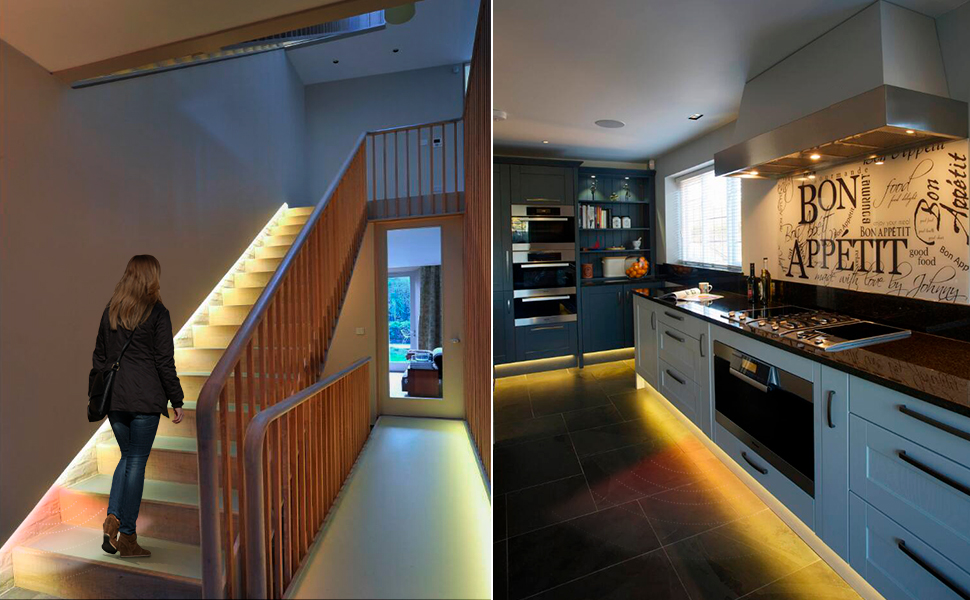 The strip light is the best lighting option for stairs. You can place the strip lights under each step for both illuminations at night and beautiful decor. If you don't enjoy using a fancy strip light, you can simply add some night light around the steps or attach a motion sensor light on the wall to provide sufficient lighting at night.
Motion Sensor Light FAQ
How to Keep Motion Sensor Lights On
Most indoor motion sensor lights allow users to switch to manual mode to manually turn off the light or keep the motion sensor light on.
If you really need to keep your indoor motion sensor light on, you should first consider replacing your current light with one that does have an always ON feature. If you only need to keep the light on at night, you can purchase a motion sensor light with light sensor mode so the light can stay ON the whole night, similar to a night light.
How to Turn off Motion Sensor Lights
Most indoor motion sensor lights would include a manual switch on the light for turning off, such as plug-in night lights, cabinet lights and strip lights.
For those sticky everywhere type of motion sensor light mounted on the ceiling or high on the wall, they are designed to be completely automatic. You cannot manually turn the light off but wait for the light to turn off by itself. It's usually not an issue because those auto motion sensor lights are often installed on hallways or stairways that won't bother too much if the light keeps on.
How to Fix a Motion Sensor Light That Stays On
Here are some of the main reasons that might cause a motion sensor light to stay on. You can troubleshoot the problem following the steps below
The motion sensor light might be set to always ON mode so the light keeps ON regardless of whether motion is detected. Change the motion detection mode to see if it solves the problem.
The motion sensor light might contain a light sensor so the light keeps ON when the environment is dark. It's similar to a regular night light. Turn off the light sensor to see if it solves the problem.
The motion sensor might be too sensitive that it has been detecting motion from far away, thus it keeps ON. Set the sensor sensitivity to low to see if it solves the problem.
If the motion sensor light keeps ON after the first installation, check the wirings to see if you have mistakenly connected the power directly to the light, bypassing the motion sensor.
How to Reset a Motion Sensor Light
Turn off the power to your motion sensor light for at least 30 seconds to reset the light to the default factory setting.
Why Are Motion Sensor Lights Flashing
When your indoor motion sensor light is flashing, most of the time, the main reason is usually a bad light bulb, loose connection or faulty circuit. The motion sensor itself is highly durable and even when the motion sensor turns faulty, it will not cause the light to flash.
Replace the motion sensor light with a new one or a regular light to see it will flash again. If the problem remains, it's probably the bad connection or electric circuit between the power to the light. If the new light does not flash, replace your current faulty light with a new one.
Can Animals Trigger Motion Sensor Lights
Yes, animals can trigger the motion sensor lights.