Rayzeek Occupancy Motion Sensor Light Switch, 5A, UK
The RZ023-5A is an UK style 5A wall mounted occupancy sensor switch which uses advanced passive infrared sensor(PIR) and MCU control. Compared to traditional motor sensor, it can automatically turn lights or fan on/off by detecting heat emitted from the motion, and have better stability and energy saving performance.
Function: Occupancy, vacancy, manual mode all-in-one
Main Spec: 100~265V, 5A, UK standard
Certification: FCC, RoHS certified
Home motion sensor for UK
RZ023 series is our motion sensor switch designed to meet the taste and installation for the UK markets.
The UK standard RZ023 occupancy/vacancy motion sensor is exquisitely designed with round cover corners to fit the decoration of European style homes.
The 5A high current rating and occupancy, vacancy, manual 3-in-1 functions are competent for every residential application in the UK and EU.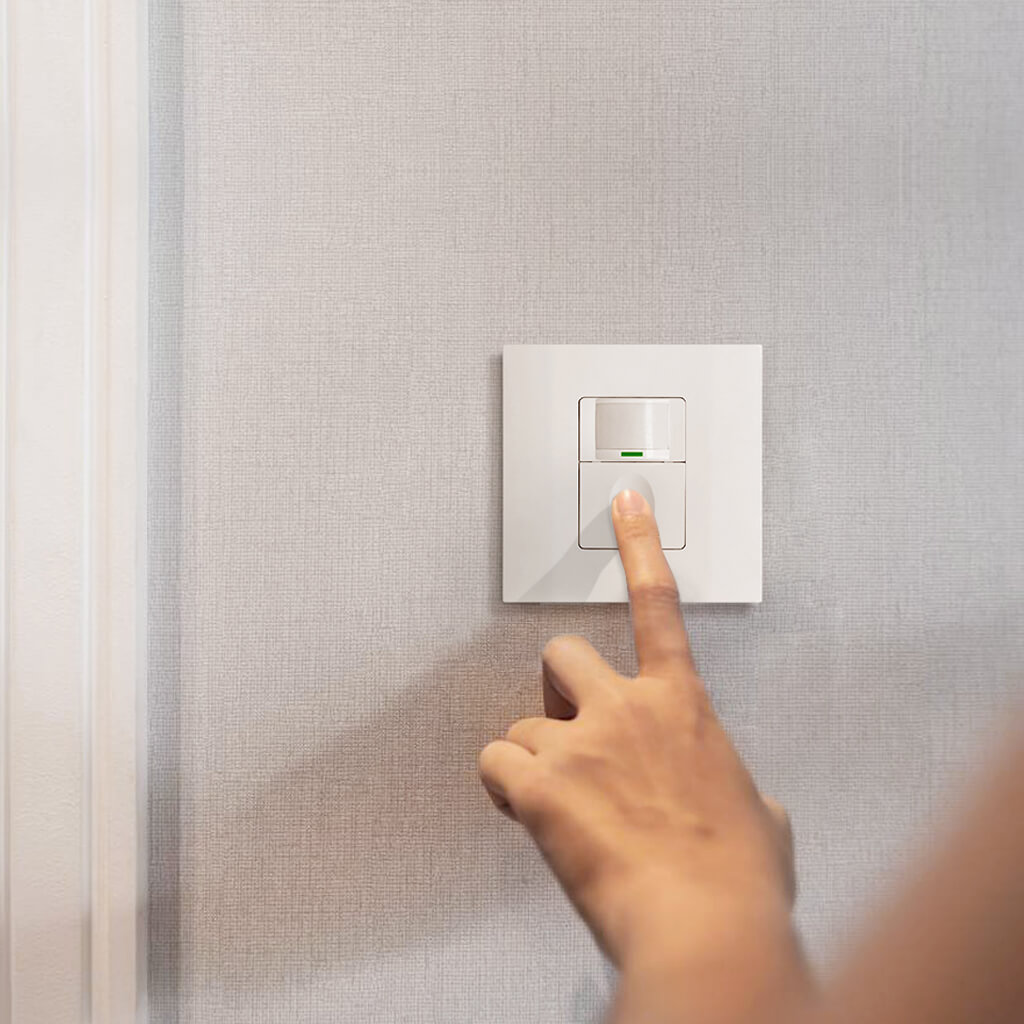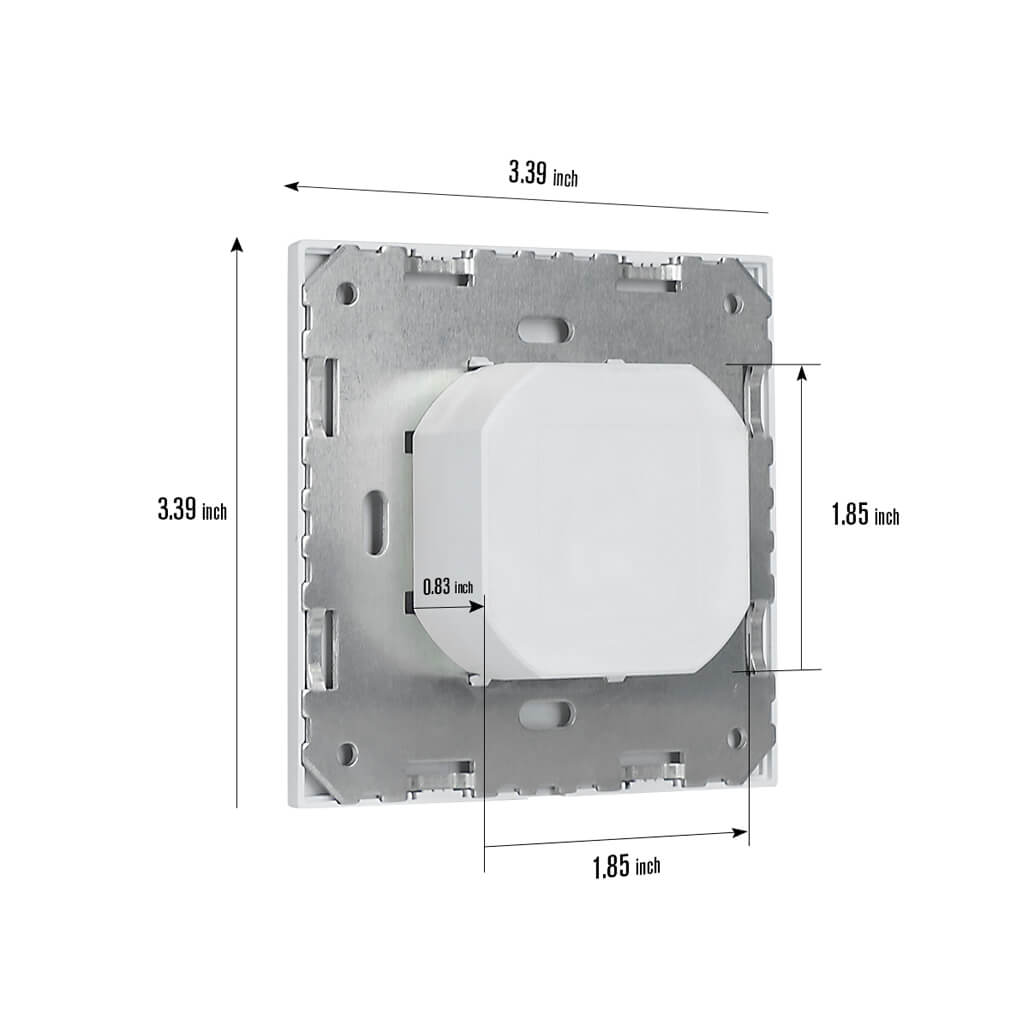 Easy DIY installation
The RZ023-5A series is super easy to install with its standard wallbox design for UK and EU markets.
Homeowners can easily replace and retrofit your regular light switch with RZ023 series in several minutes without effort.
Ever meet these problems?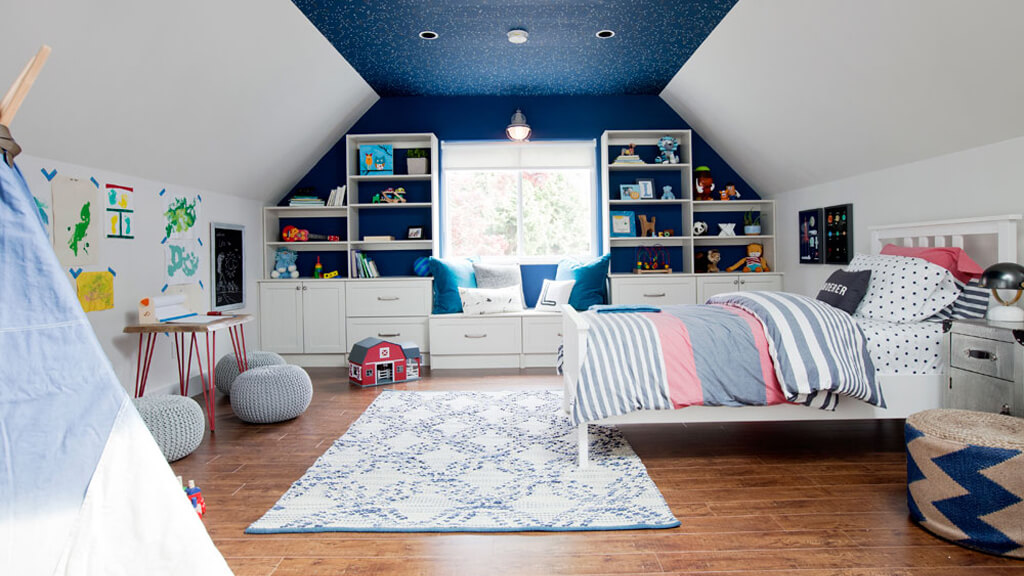 Need smarter lighting in kids' bedrooms
Parents don't have to worry about kids leaving the lights on with an occupancy sensor. Occupancy mode is great for daytime as kids would enter and leave their room pretty often. But in the nighttime, the light might turn false on when they go to sleep.
While vacancy mode can keep the light off but it is annoying to change the mode too often.
Can we keep the auto on/auto off occupancy mode all day and keep the lights off while kids sleeping?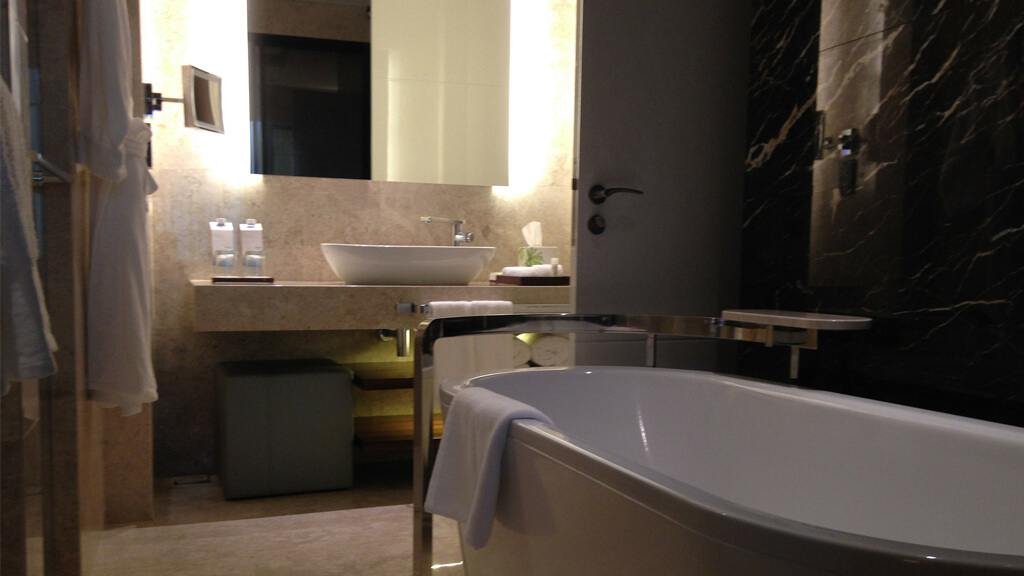 Lights turn off while no motion detected in a shower
The occupancy motion sensor in our bathroom detects motion to keep the light on in the shower. In occupancy mode, the light usually goes off as it's hard to detect motion due to installation position and heat change. Even in vacancy mode with 30 minutes time delay, the light might still go off when we want to enjoy a nice and long hot shower, changing time also takes extra steps.
Is there a way to keep the light always on in the shower without the embarrassment of constantly waking up the light?
Say hello to the smarter feature!
Manual on/off override mode, solves real-life problems
Rayzeek introduces a breaking new feature to solve the real-life problems in the above scenarios, the innovative manual on/off mode.
We don't have to change the frequently used occupancy mode to vacancy mode to keep the lighting always off. What we have to do is simply press the small button on the panel to manually override the existing occupancy/vacancy mode, to a manual operated on/off mode.
In this mode, we can keep the lighting always on or always off just like operating a mechanical switch. Simply press the big button on the panel to return to sensor mode with all previous settings unchanged.
Rayzeek cares about your life and solves real-life problems.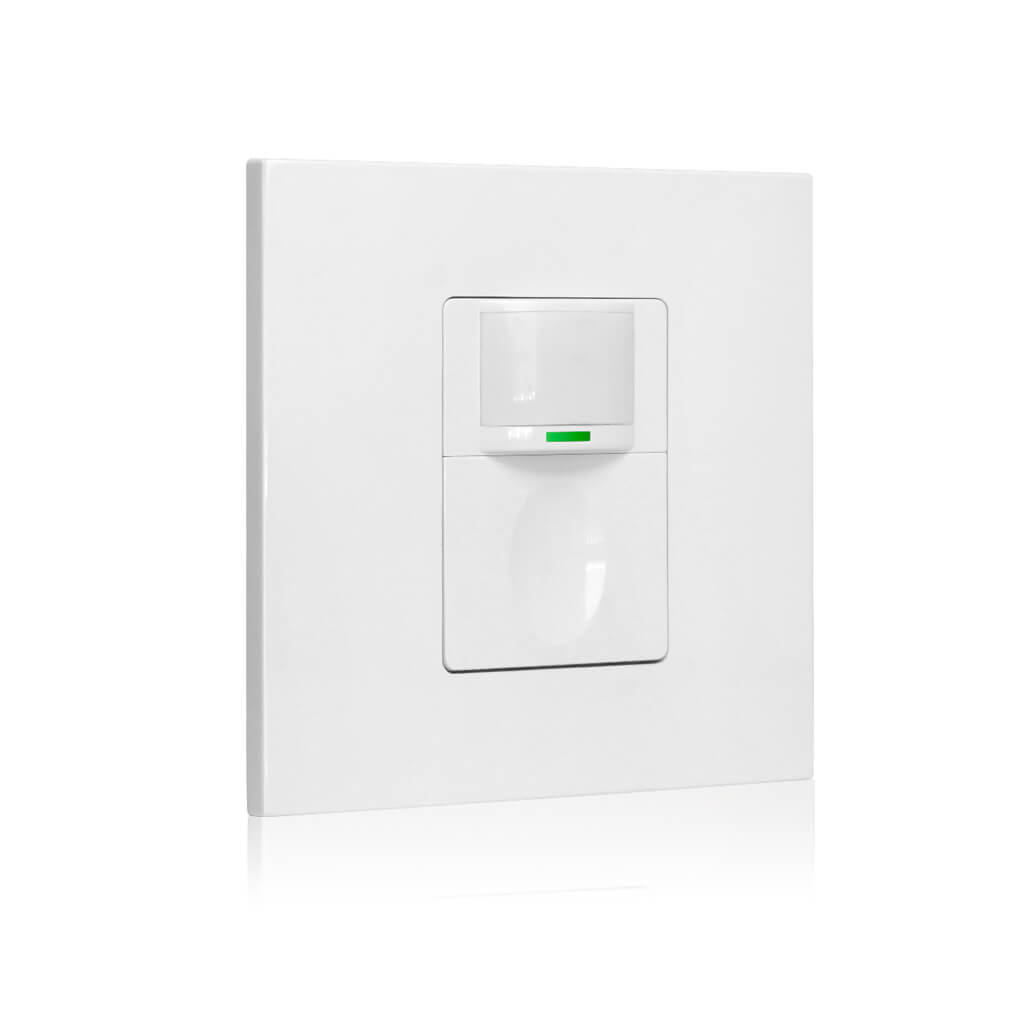 For homeowners
The RZ023 series motion sensor light switch works with any bulb type, including incandescent, halogen, fluorescent and LED.
The occupancy with ambient light mode keeps the lights off in natural lights, offering the best natural lighting experience for your home.
Features & Specifications
3 in 1 Occupancy&Vacancy&On-Off sensor switch adjustable.
Use fireproof material, high security.
Built-in magnetic latching relay, compared to traditional relay, better performance.
Digital scale on time delay, 15seconds, 1mins, 3mins, 5mins, 15mins, 30mins(6 time delay modes adjustable).
Surface buttons to change the function mode directly, free removal.
Accept function customize, like delay time, light sensor value as you request.
UL listed, suitable for American market.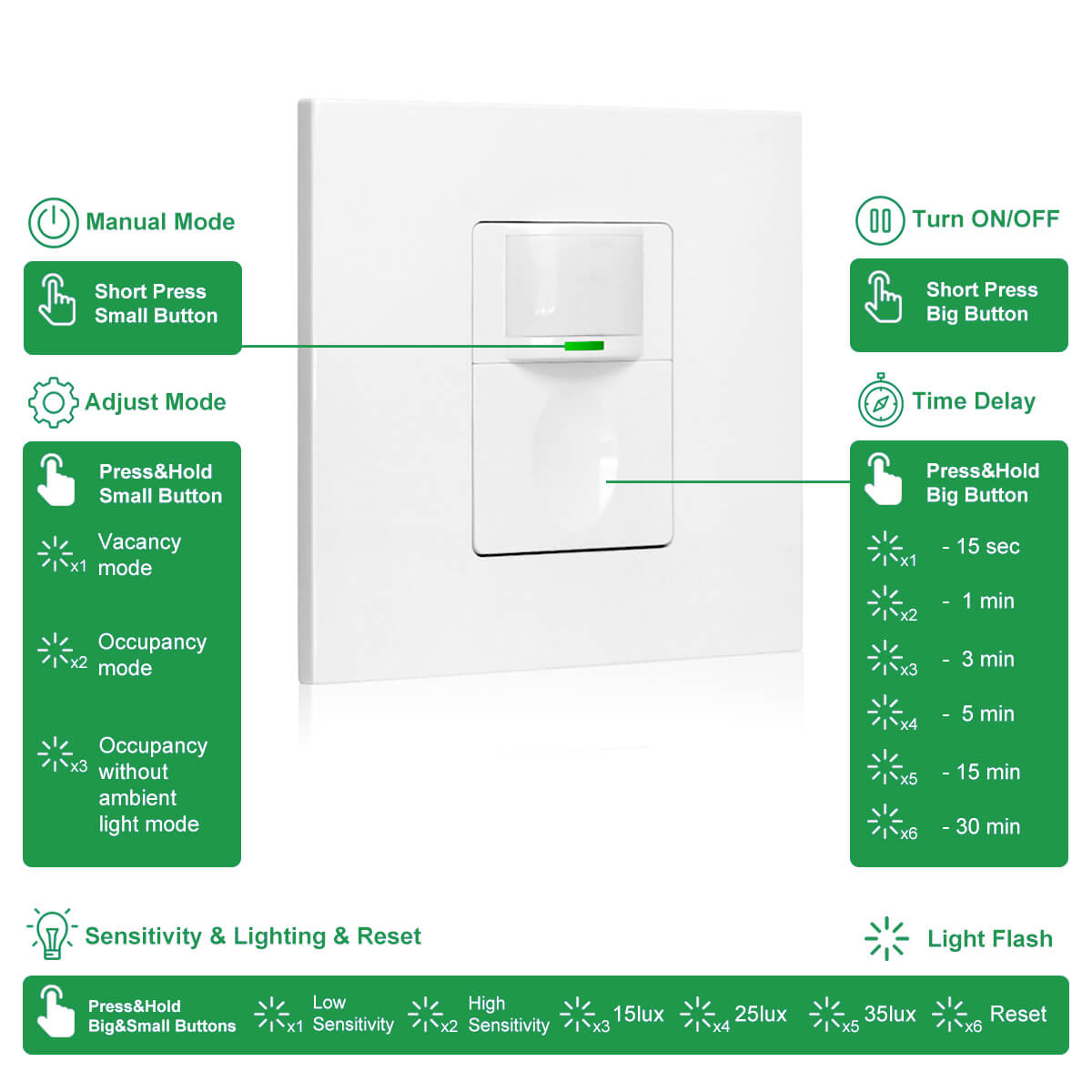 Sensor Mode
Vacancy mode
Occupancy mode
Occupancy without light sensor mode
Manual ON/OFF mode
Time-Delay
15 s, 1 min(default), 3 min, 5 min, 15 min, 30 min
Light Sensor
Off, 15 Lux, 25 Lux (default), 35 Lux
Sensor Sensitivity
Low sensitivity
High sensitivity
Power Source
100 VAC ~ 265 VAC
Power Frequency
50 / 60Hz
Installation Height
1.2 m ~ 1.6 m
Detection Distance
7 m ~ 10 m (<27℃)
Detection Speed
0.6 ~ 1.5m/s
Fluorescent / Ballast / LED
500 W / 220 VAC
Incandescent / Halogen
1100 W / 220 VAC
Working Temperature
-20 ~ +40℃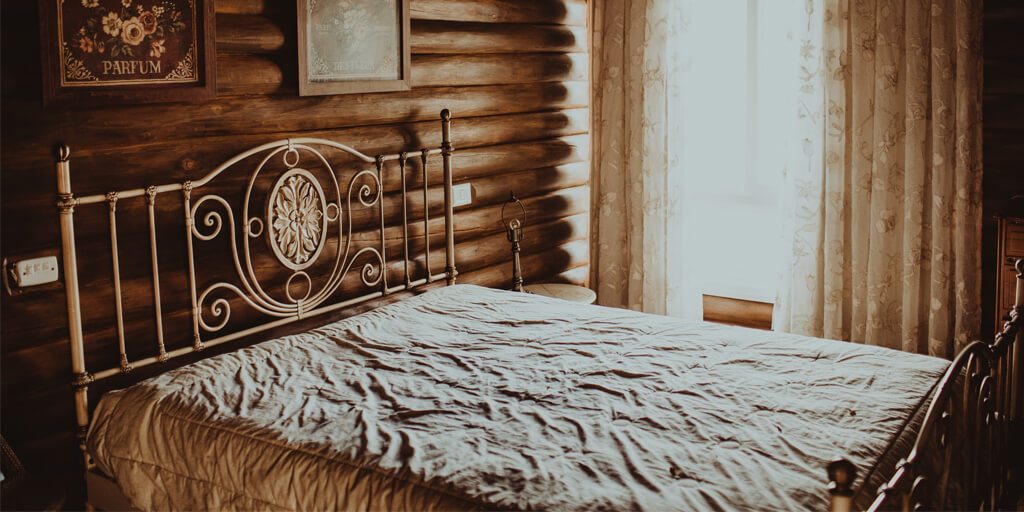 Perfect For Any Room In Your Home
The 1-gang single-pole RZ023-5A is the ideal replacement and retrofit motion sensor solution for UK homeowners.
Bathroom
Auto on/off occupancy sensor mode is the ideal energy-saving lighting mode for home bathrooms where we enter and leave quite often.
With our hands often wet or dirty, the auto on/off lighting saves us a lot of time and helps keep your house clean.
Additionally, with Rayzeek's unique manual on/off mode, you can fully enjoy a hot bath without worrying about the sudden lights off.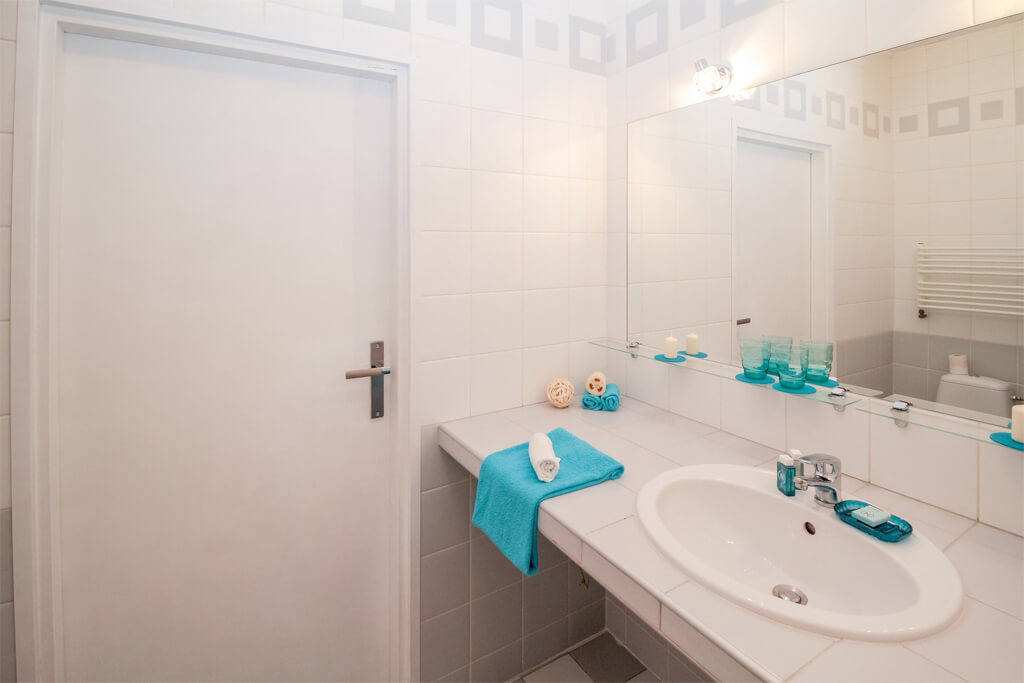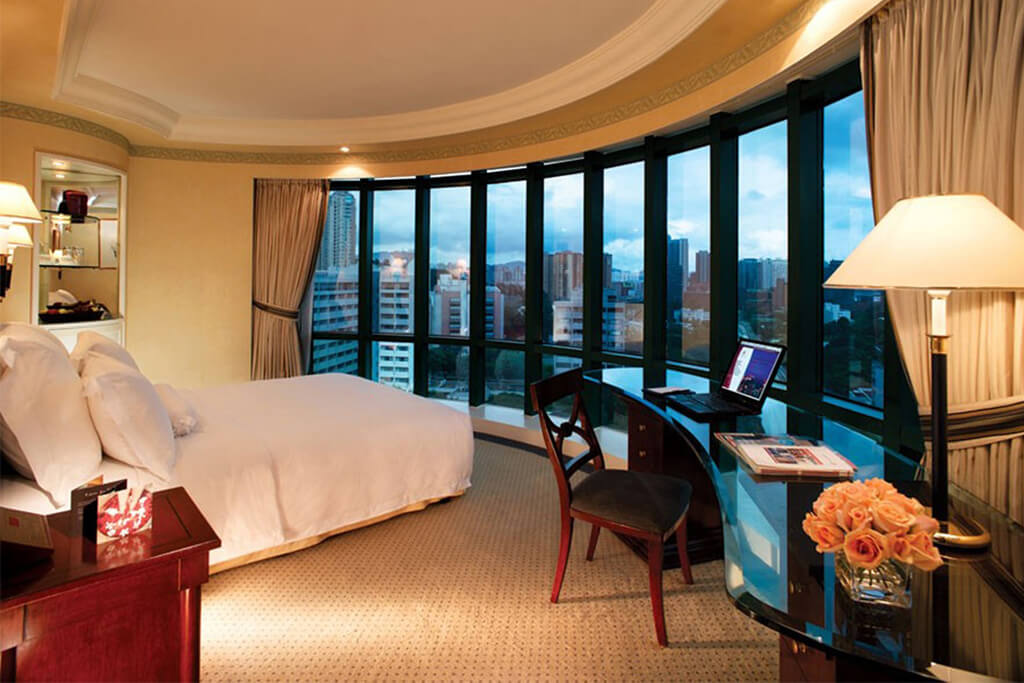 Hotel Room Energy Saving
Using occupancy sensor light switches in hotel rooms can not only provide a smart and convenient lighting control experience for customers but also save massive hotel electric costs.
The occupancy, vacancy, and manual on/off 3-in-1 model RZ031-5A offers max compatibilities for hotel owners as they can apply different sensor modes in different hotel areas such as the hallway, guest rooms, the lobby freely with ease.
Save energy with Rayzeek in under 8 minutes.
Remove old switch
3 minute
Connect new switch
5 minute
Enjoy Green lifestyle
Immediately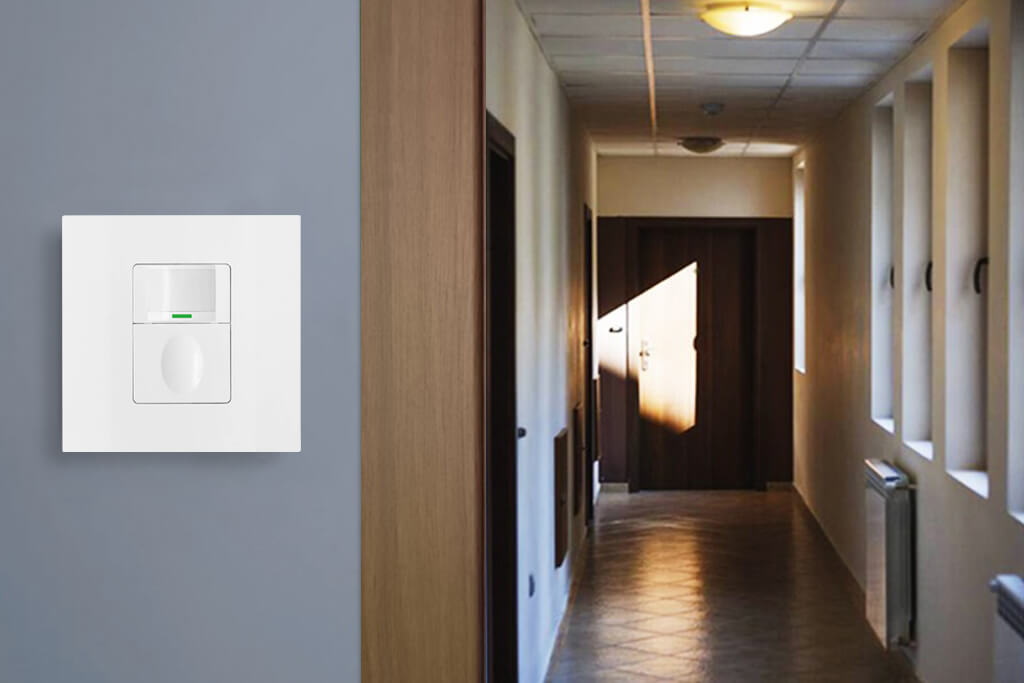 Enjoy smart and hands-free lifestyle with Rayzeek today.