Rayzeek Occupancy Motion Sensor Light Switch, 5A, EU
RZ022-5A is a line voltage passive infrared PIR wall mounted motion sensor which is commonly used as a wall mount occupancy sensor light switch or wall switch for commercial and residential home applications such as office, garage, bedroom or bathroom.
The RZ022 series in-wall motion sensor wall switch combines occupancy and vacancy mode into one, allowing the sensor to work as an occupancy sensor or a vacancy sensor to best suit your needs. You can also adjust time delay, light sensor, sensitivity with touch button directly without the need to disassemble the cover. Furthermore, Rayzeek offers a unique ON/OFF switch feature that allows the sensor switch to work temporarily like a mechanical switch to avoid false-ONs or false-OFFs problems.
The Rayzeek RZ022-5A occupancy/vacancy sensor can work under 100V to 265V broad voltage range and a 5A high current rating. With its 86-type junction box design, the RZ022 series is the ideal occupancy motion sensor switch for the EU market for new installation or replacement.
Main Features:
Auto-ON/Auto-OFF occupancy mode, Manual-ON/Auto-OFF vacancy mode, Manual-ON/Manual-OFF manual mode all-in-one
100V ~ 265V for residential and commercial application
5A current rating competent for multiple lighting loads
86-type standard European wall box installation
Time delay, light sensor Lux value and sensitivity adjustment
Certification: FCC, RoHS certified
Home Wall Mount Occupancy Motion Sensor
RZ022 wall mount motion sensor is a passive infrared PIR technology motion sensor switch, mainly used as the wall mount occupancy sensor light switch that can automatically turn on the light when detecting presence and turn off the light when the room is vacant to save energy and bring convenience.
You can also switch RZ022 to a vacancy sensor light switch to manually turn on the light and automatically turn off the light anytime for commercial applications such as conference offices.
RZ022 series motion sensor wall switch designed to meet the taste and installation for European markets with its 86-type wall box design and 110VAC to 277VAC broad working voltage.
You can adjust time-delay, ambient light sensor value and sensor sensitivity by simply touching the button, for the RZ022 PIR wall switch occupancy sensor to always meet your diverse demand.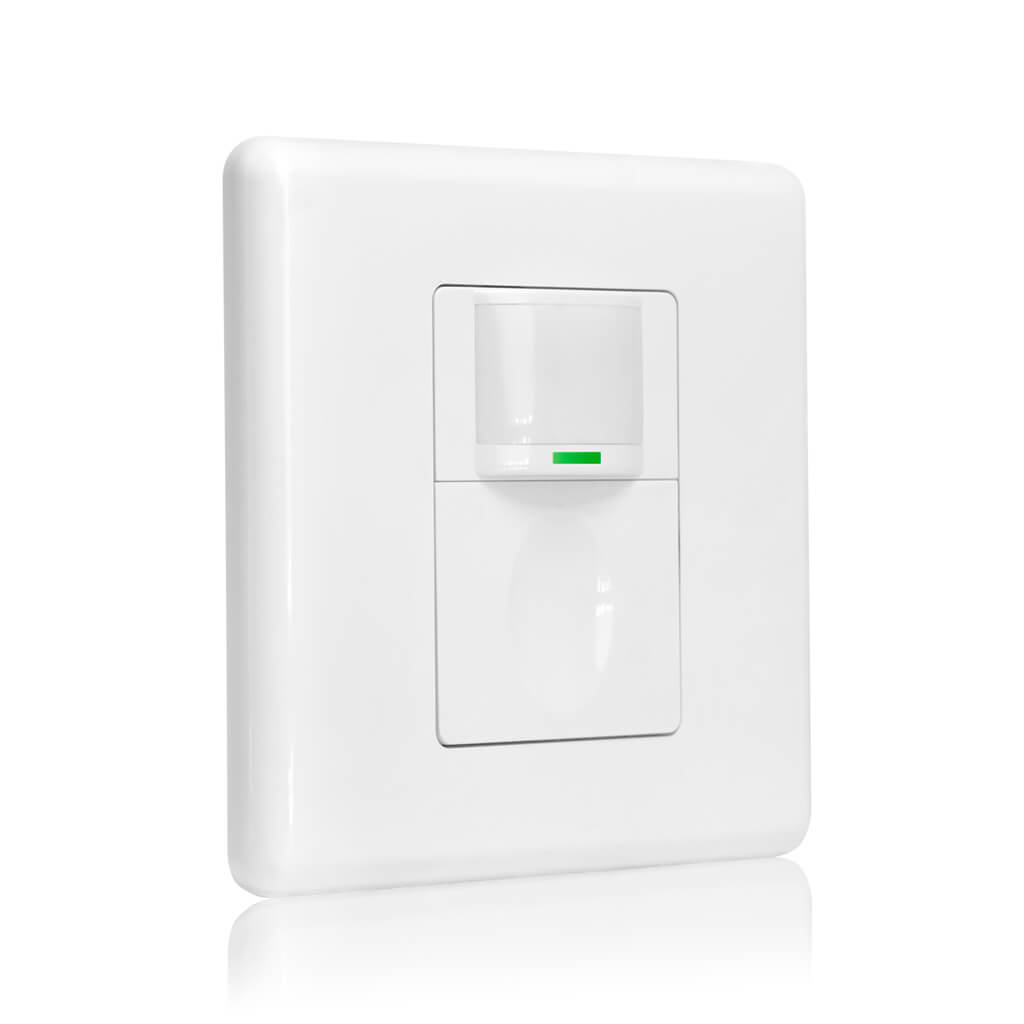 Distinctive feature, Exquisite design
Rayzeek RZ022-5A series is fully adjustable with a range of different modes. It integrates occupancy mode, vacancy mode and our innovative manual mode into one occupancy sensor for maximum flexibility of every residential application.
Besides our distinctive 3-in-1 function, what sets our occupancy sensors different from others is our elegant and sleek design.
Without any setting dials or switches inside the cover face, all functions and settings are achieved by simply pushing the big and small buttons on the panel.
The flat, elegant and minimal design allows our RZ022 series occupancy sensors to be the optimal solution and match the decoration of every residential application.
Ever meet these problems?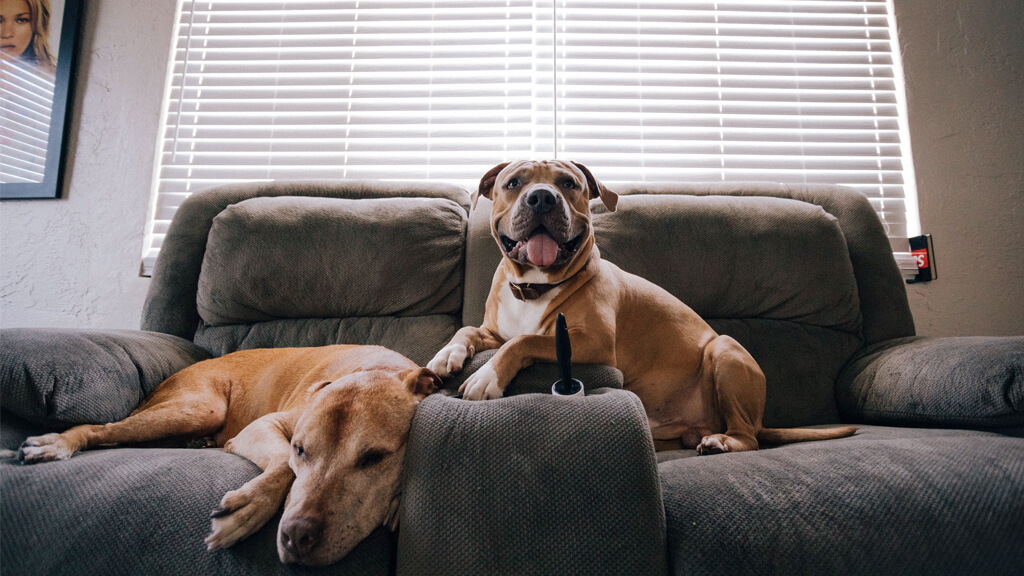 Energetic pets trigger the sensors in the middle of the night
In the middle of the night, dogs and cats are highly energetic while people are sleeping. They often trigger occupancy sensors with bright light waking us up, especially in laundry rooms or the kitchen where lies the litter box.
Is there a super-easy way to temporarily keep the light always off during the night and return to occupancy mode in the day for a night of good sleep?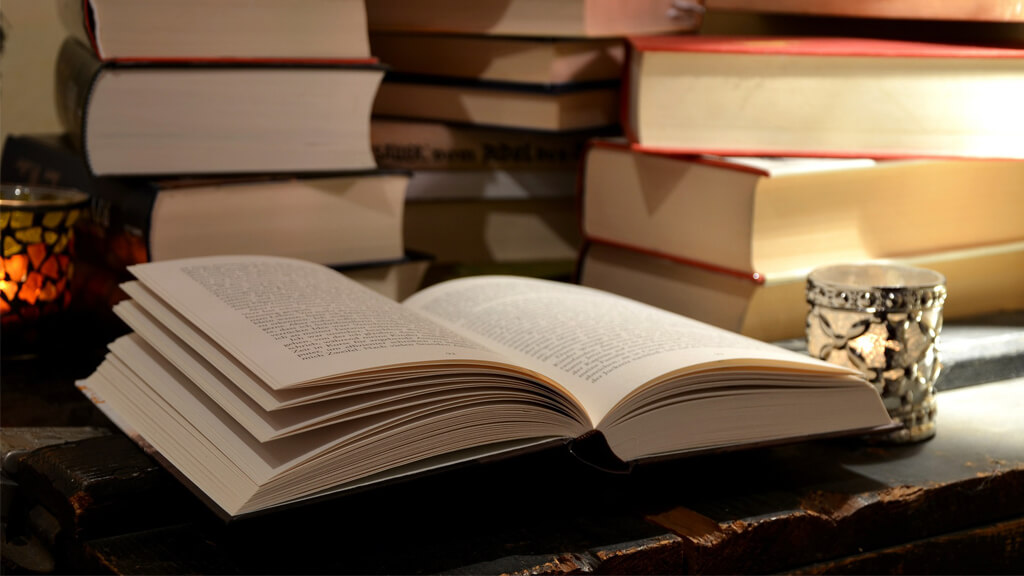 Lights turned off while reading
Reading can inspire and teach us, help us laugh or relax. We can all benefit from reading a good book every day.
When we are into deep reading, ordinary motion sensors might not detect very fine motion like turning pages which can lead to the light false off that causes unnecessary trouble.
Can we keep the motion sensor light switch always on when we're having a good time reading?
Embrace a smarter lighting control
Magically works like a regular switch when in need
Rayzeek introduces a breaking new feature to solve the problems in the above scenarios, the innovative manual on/off mode.
In this mode, the switch will temporarily become fully manual operated just like a normal mechanical switch, which allows users to keep the switch always on or always off without the distraction of motion sensors.
And It's super easy to operate.
Press the small button on the panel to enter manual mode and press again to get back to the sensor mode without losing any settings.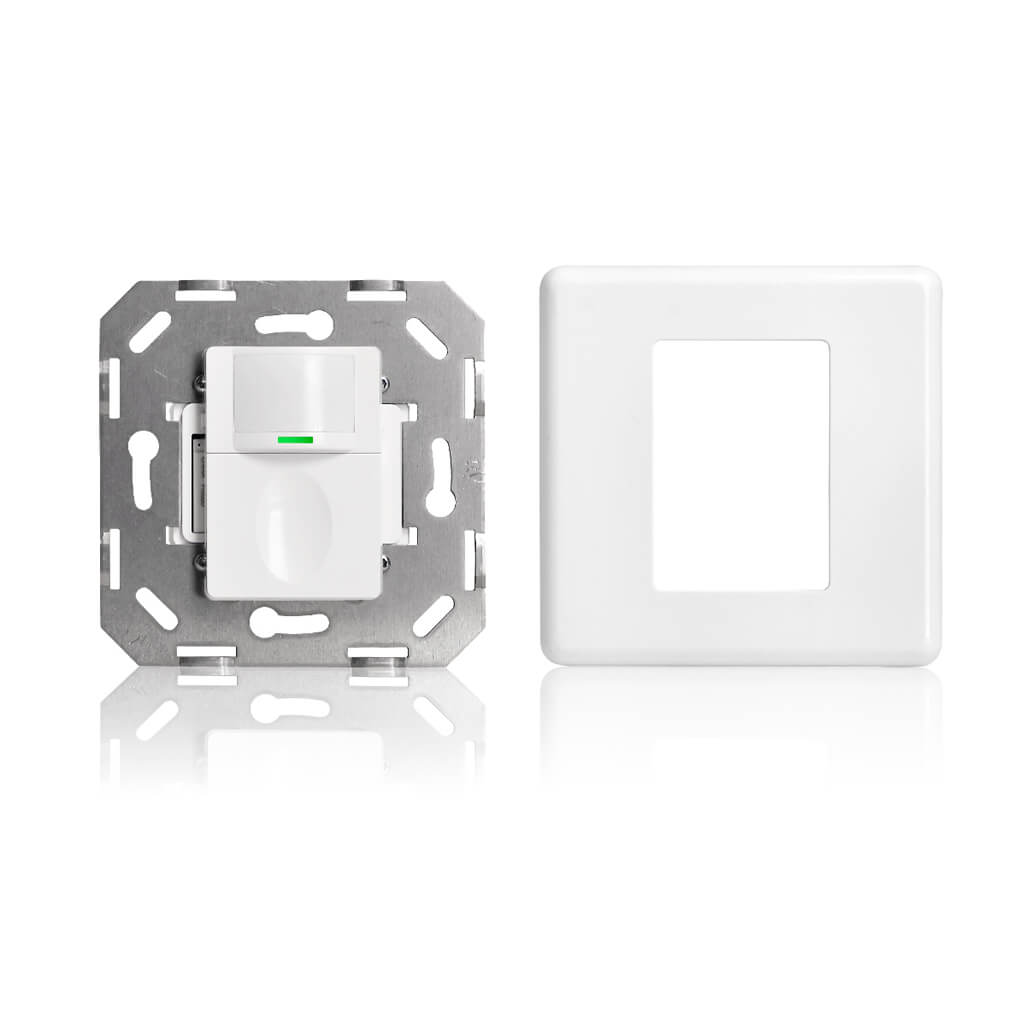 Competent for every
residential applications.
The RZ022-5A series offer a relatively high 5A current rating compared to the common 2A occupancy sensors on market allowing our occupancy sensor to cover a much broader range of residential applications such as multiple lighting and fan control.
Features & Specifications
Passive infrared PIR technology, suitable for detecting medium to large motions
Auto-ON/Auto-OFF occupancy mode, Manual-ON/Auto-OFF vacancy mode, Manual-ON/Manual-OFF manual mode all-in-one
86-type standard European wall box for easy replacement
Accurate and high sensitivity
High security motion sensor made from fireproof material
Built-in magnetic latching relay offers better performance compared to traditional relay
Change features by directly touching buttons without removal of cover plate
Adjustable time delay from 15s, 1mins, 3mins, 5mins, 15mins, 30mins.
Light sensor adjustable from 15 Lux, 25 Lux, 35 Lux
Low and high sensitivity adjustable.
FCC, CE, RoHS approved, suitable for the US and European market.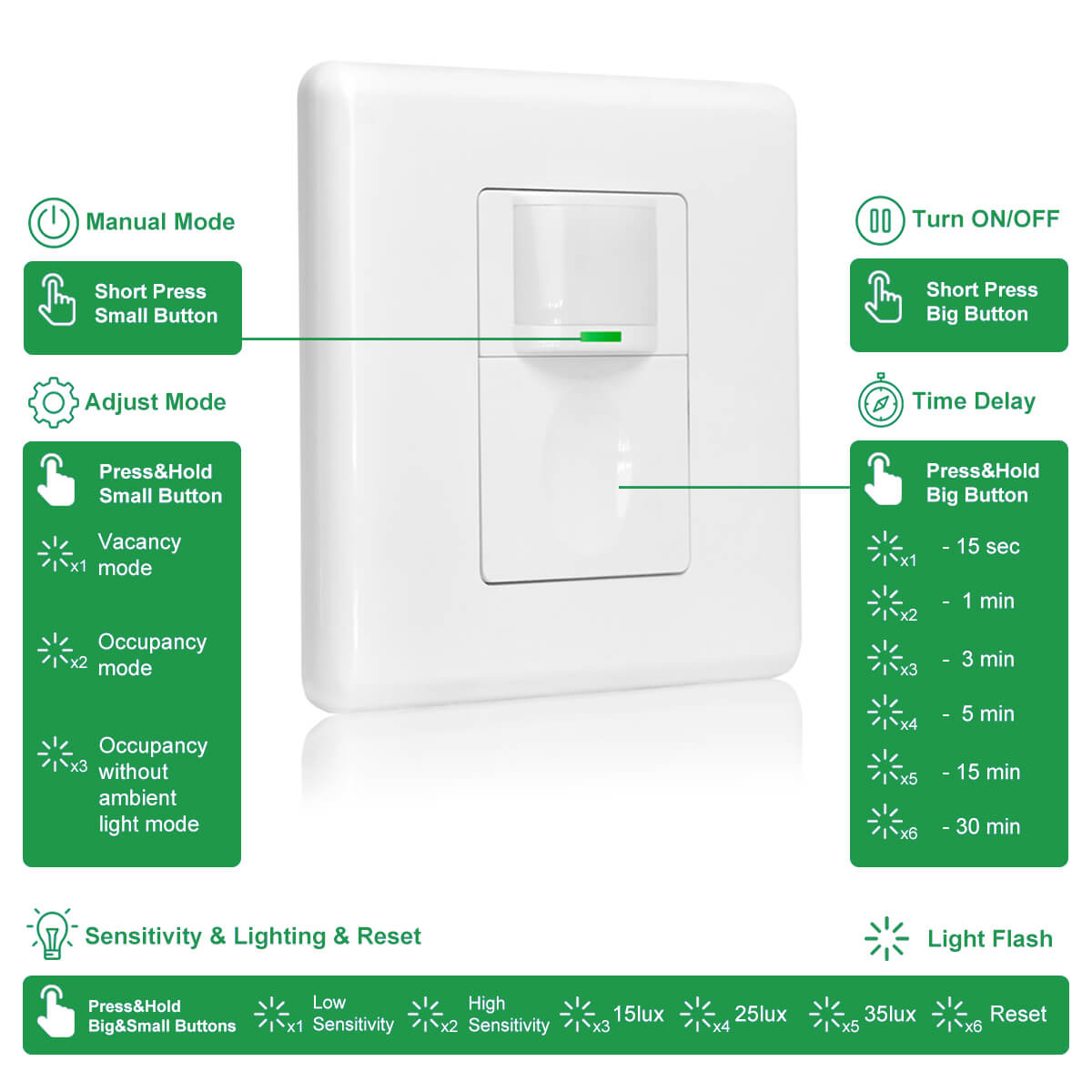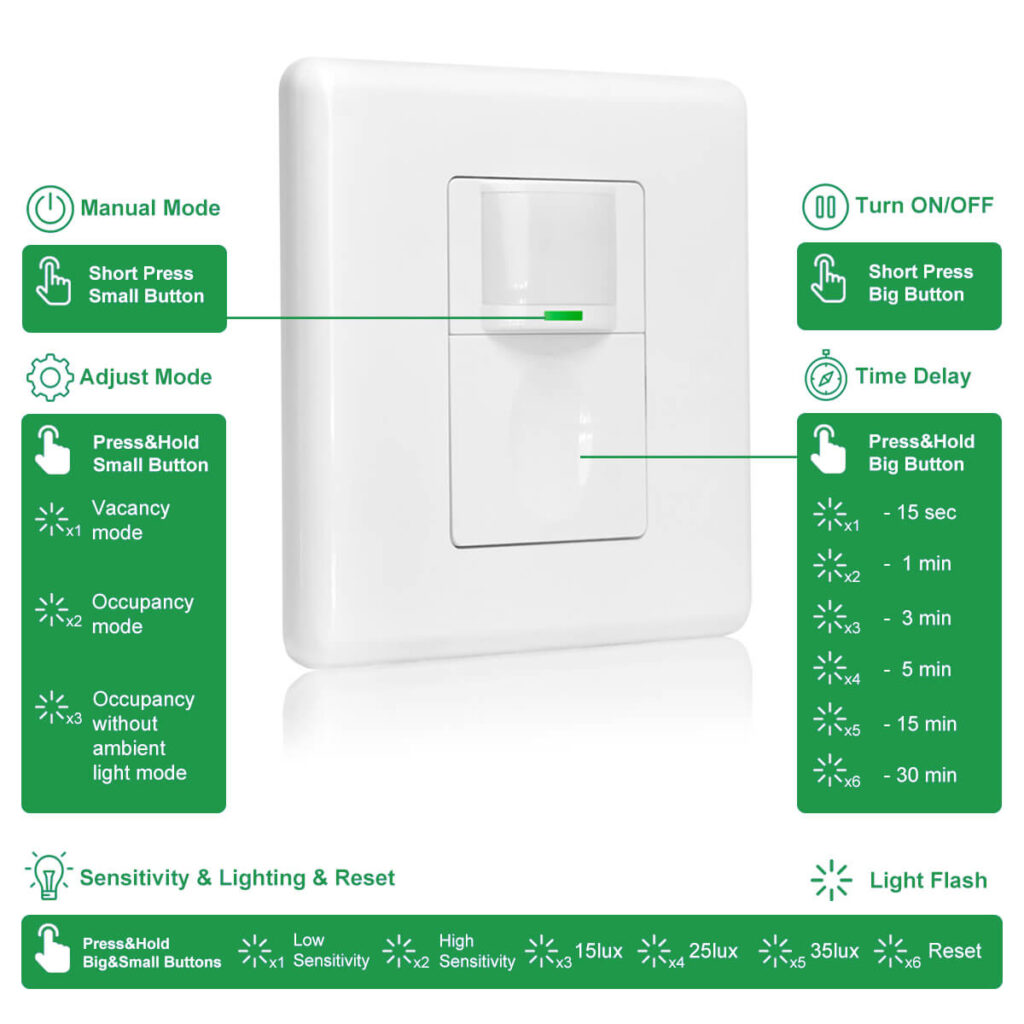 Sensor Mode
Vacancy mode
Occupancy mode
Occupancy without light sensor mode
Manual ON/OFF mode
Time-Delay
15 s, 1 min(default), 3 min, 5 min, 15 min, 30 min
Light Sensor
Off, 15 Lux, 25 Lux (default), 35 Lux
Sensor Sensitivity
Low sensitivity
High sensitivity
Power Source
100 VAC ~ 265 VAC
Power Frequency
50 / 60Hz
Installation Height
1.2 m ~ 1.6 m
Detection Distance
7 m ~ 10 m (<27℃)
Detection Speed
0.6 ~ 1.5m/s
Fluorescent / Ballast / LED
500 W / 220 VAC
Incandescent / Halogen
1100 W / 220 VAC
Working Temperature
-20 ~ +40℃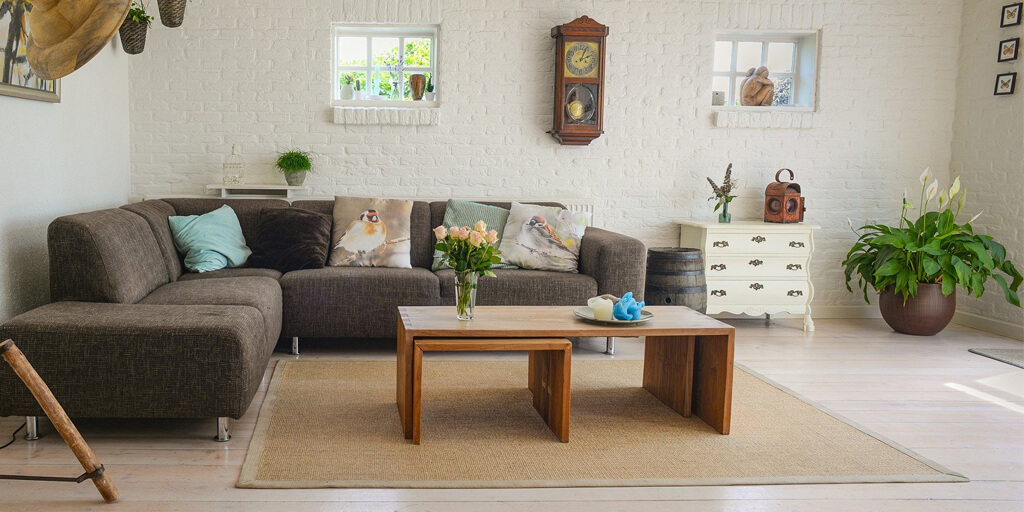 Competent for every residential application
The RZ022-5A is the ideal occupancy sensor solution for 220V residential and home applications.
Perfect for spaces where we enter and leave frequently such as bathroom, bedroom, kitchen, laundry room, hallway, and garage.
Laundry Room
The laundry room is one of the most used rooms in our daily life. Most of the time, we enter the room arms-full with the laundry to be washed, it's difficult to turn the light switch on at night.
The occupancy sensor mode is the perfect solution for laundry rooms as it can turn on the light automatically by detecting your entrance and automatically turn off the light while you leave the room.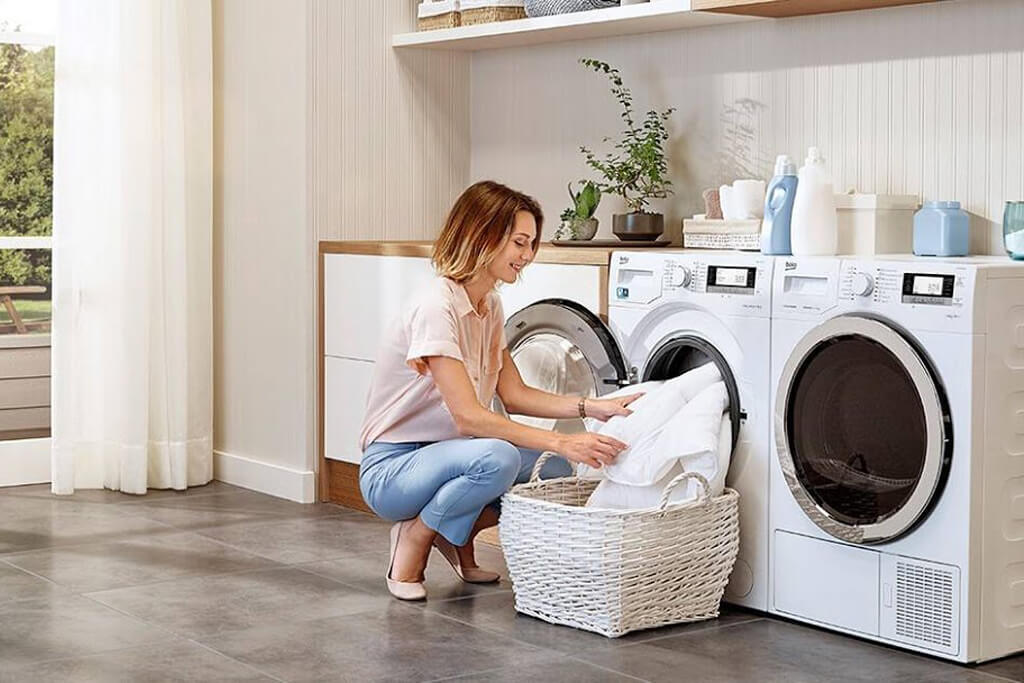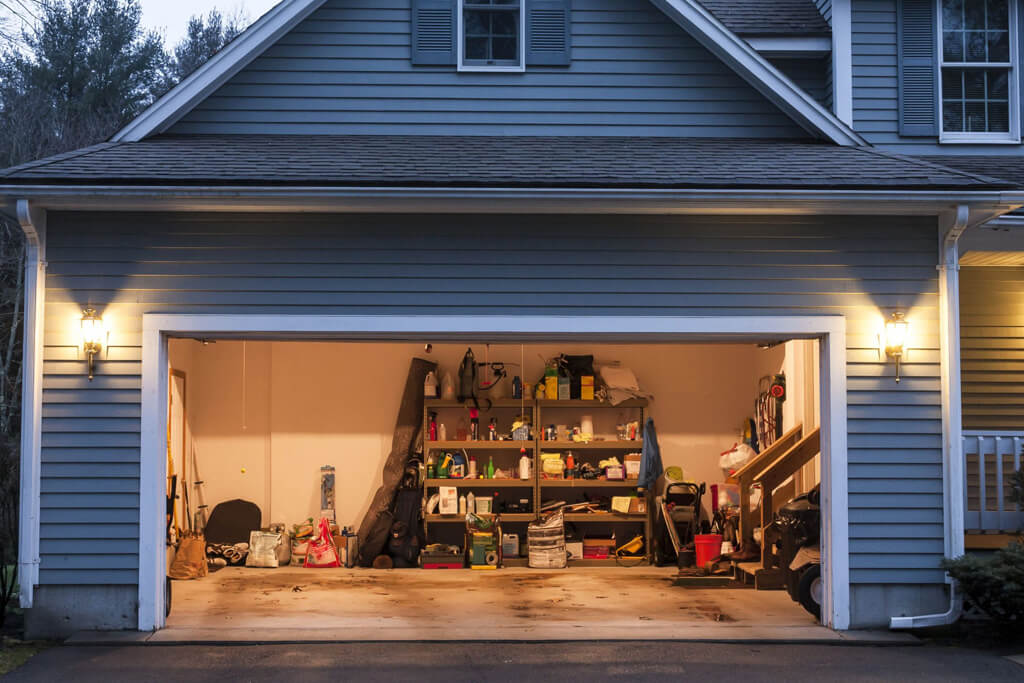 Home Garage
When entering and leaving the garage, the in wall PIR occupancy motion sensor light switch can automatically turn the light on and off to spare us time and effort.
In some cases, our arms are full with things to hold that it's inconvenient to turn on the light by hand while the motion sensor light switch would be the ideal problem-solver.
Private office
Either occupancy and vacancy mode is great for automation lighting control and energy-saving for private offices according to your preference.
With Rayzeek RZ022 occupancy sensor switch, things are never this easy. You can switch between occupancy and vacancy mode at any time. If you enjoy natural light, setting occupancy mode with ambient light will keep the light off in the daytime. Or set the switch to manual mode when you need it to be always on or off.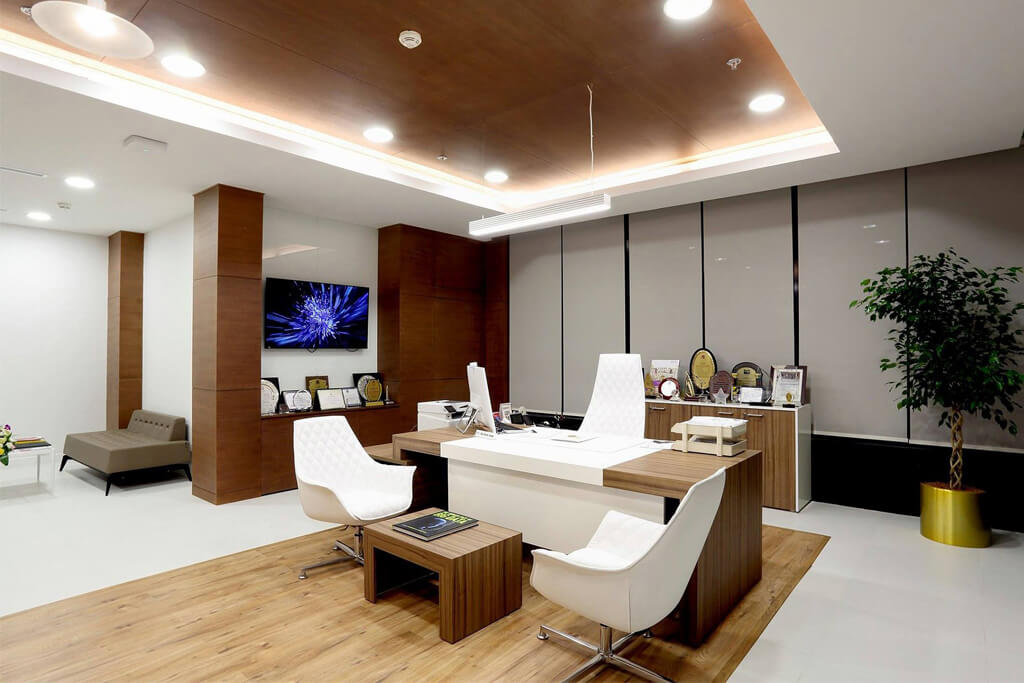 Breakroom
Occupancy sensors can reduce energy waste by 39% and increase energy-saving up to 17% with a 20-minute time delay for break rooms.
With the help of a vacancy sensor light switch, you can easily save up to 29% of energy with a shorter 5-minute time delay.
Save energy with Rayzeek in under 8 minutes.
Remove old switch
3 minute
Connect new switch
5 minute
Enjoy Green lifestyle
Immediately
Enjoy smart and hands-free lifestyle with Rayzeek today.